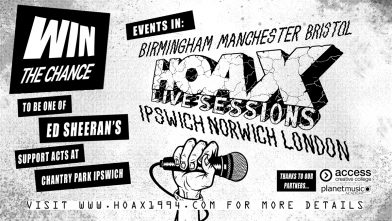 Are you an unsigned band or singer-songwriter?
HOAX Live Sessions 2019 is hosting a six-stop UK music tour with the fantastic opportunity for an unsigned band or artist to open for non-other than Ed Sheeran on the final night of his record-breaking Divide World Tour in Ipswich on Monday, August 26.
…
Pop Scoop founder and editor. Ex showbiz/tech editor at the Cyprus Mail. Former sub-editor at Archant. Former art director Sky TV. Co-founder of Kool Magazine and freelanced for the BBC, Channel 4, Warner Bros and the Cyprus Broadcasting Corporation.
Posted Under