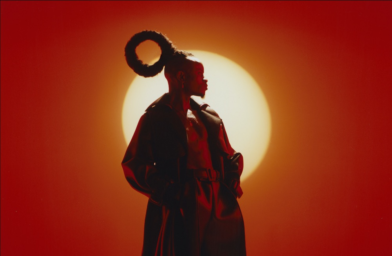 British Zimbabwean artist KWAYE has returned with the release of his new single "Run", the first new music to be heard since his 2018 EP 'Love & Affliction', released via LA label Mind Of A Genius.
Praised for his ambitious explorations into 80s synth-pop, indie-pop and R&B, KWAYE is a globetrotting singer-songwriter like no other. Taking inspiration from the likes of neo-soul icon D'Angelo and funky boundary-pusher Thundercat – he weaves their forward-thinking approach into unexpected influences such as Tracy Chapman and the Eagles. The result is a wholly singular, captivating brand of modern soul.
"Run" marks the start of a new chapter for KWAYE. Now releasing music on his own imprint, and on his own terms – it's the first taste of a new project which will see him embark on an inward journey of rediscovery.
A powerful, piano-backed modern soul jammer, KWAYE's instantly recognisable vocals take centre stage, with the track shifting seamlessly from its soothing verses to its uncompromising chorus.
Speaking on the release of the new single, KWAYE said: "'Run' is an experience lived by many of our brothers around the world – it is the dichotomy of walking your truth as a human being, and negotiating your survival as a black man. The turbulent nature of 2020 has caused many of us to reflect on our own individual worlds – what they need, how they feel, and where they sit within the ever-changing world we all share. In this time I realised how far I'd strayed from the things that make up who I am, and began to address the battles that have long needed resolving. The first is 'Run': Freedom vs. Duty. From family and community to loyalty and expectations, this song captures the beauty and the complexity of that internal conflict."
KWAYE is a new kind of artist, a utopian global citizen, bouncing from city to city, continent to continent, picking up influences and energy along the way. A multi-instrumentalist who plays viola, sax, and guitar, he's been performing on stage since childhood in venues ranging from open mic nights to the West End.
And then there's the style: Zimbabwean colour and swagger matched with the clean, smart lines of London fashion. KWAYE's sense of style extends seamlessly into his sonic identity, blending into one complete aesthetic whole with the effortless grace of a veteran pop star.
In a world that can sometimes feel like it's falling to pieces, KWAYE may not only be the artist we want right now – he might be the one we need.
KWAYE's new single "Run" is out now, with more new music to follow in 2021.
Pop Scoop founder and editor. Ex showbiz/tech editor at the Cyprus Mail. Former sub-editor at Archant. Former art director Sky TV. Co-founder of Kool Magazine and freelanced for the BBC, Channel 4, Warner Bros and the Cyprus Broadcasting Corporation.

Posted Under