Pop Scoop!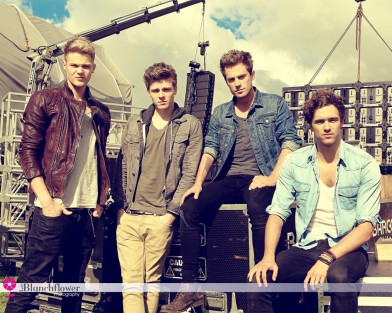 Lawson are officially the first special guests to be confirmed to perform at the big Olly Murs outdoor concert in Exeter this summer, playing at Powderham Castle on Sunday, 7 July.
Lawson have made a huge impact since hitting the top five with their debut single, 'When She Was Mine', last May, following it up with two more chart smashes – top three UK single 'Taking Over Me,' and radio smash 'Standing In The Dark' which is the bands biggest selling UK single to date, firmly establishing themselves as one of the brightest new pop bands to launch in recent years.
With all the songs penned by the band themselves, drawing on real life relationships, experience and challenges, their debut album, 'Chapman Square,' (produced by Grammy winner John Shanks,) also hit the top five on release in November 2012 and the band have been steadily building up a large and dedicated following.
A formidable live presence, frontman Andy Brown, guitarist Joel Peat, drummer Adam Pitts and bass player Ryan Fletcher have gone from playing to three people in pub backrooms, to selling out four headline tours and opening for artists such as Jessie J, Will Young and Avril Lavigne. They packed out their stage at V Festival, made appearances at the Summertime and Jingle Bell Ball, and will take their set worldwide in 2013 with shows in North America and South East Asia upcoming.
Current single Learn To Love Again is the fourth single to be taken from Chapman Square.
Meanwhile, Olly Murs' eagerly awaited second single from the latest album, Army of Two, is due out on 10 March
Commenting on the announcement, concert spokesperson Dion Clements said "Olly is a big enough reason to come out to Exeter's Powderham Castle alone, so adding Lawson to the line-up means the whole event just got that much bigger!"
The concert will take place at Powderham Castle, Exeter, on Sunday, 7 July. For more information, or to book tickets for the event, visit www.gigantic.com or call 0844 888 9991. Powderham Castle can also be reached on 01626 890243
Wheelchair users should contact the dedicated booking line 0115 959 7908.  Additional guest performers will be announced in due course.
See the video for Lawson – Learn To Love Again
[youtube_video id="irw3IbjP3vQ"]