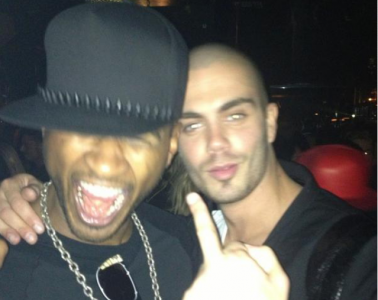 Twitter fans of The Wanted and One Direction were reaching for the popcorn today as a feisty battle between the boys that has been brewing for days became must viewing.
Now it may seem a little confusing to follow this Twitter spat so we'll provide a pictorial guide as we go along.
It all started when Max posted a photo of himself with Usher and Tweeted: "Me and usher getting messy!!!" . Zayn replied calling him a "geek".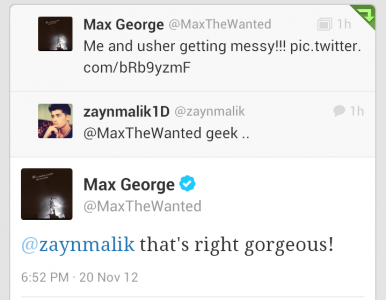 Max replied to Zayn, writing, "that's right gorgeous!"
Now, this is where it gets confusing. On the same night Max posted a picture of himself and Psy, saying "Me and Psy getting messy!"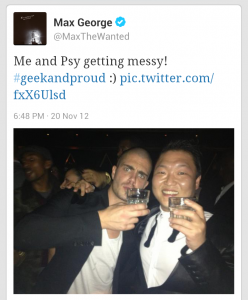 Zayne came back with, "@MaxTheWanted the first step is acceptance #geekoftheweek". To which Max replied, "@zaynmalik does that mean I'm 'in'?".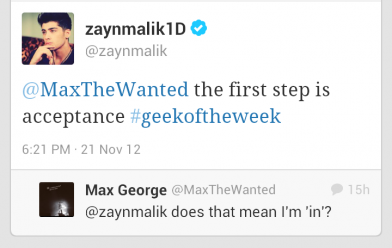 Zayn retorted, "@MaxTheWanted I'm not sure why your still talking to me mate conversation ended when I called you a geek."

No at some point during this, Max tried to clear the tension saying,  "No dramas peeps its all just flirting! Haha."
Zayn then came in with a belter, "Your display just how's [sic] how much of a wannabe you are."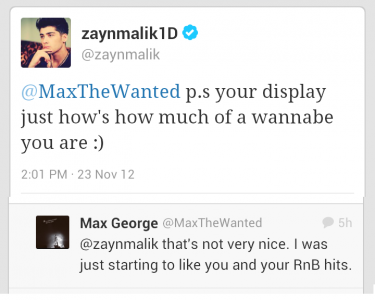 The spat continued with Max telling Zayn, "That's not very nice. I was just starting to like you and your RnB hits."
At this point Tom Parker from The Wanted adds his two pennies worth writing, "I think '1 stripes' got his knickers in a twist bro."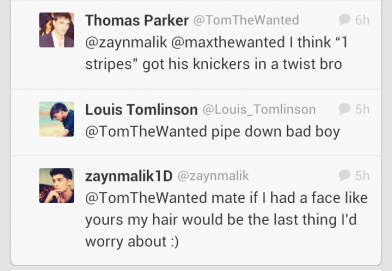 Louis Tomlinson stepped up to defend his bandmate saying, "Pipe down bad boy." Tom wrote back with a sarcastic apology, "Sorry 'sass master.'"

Zayn then wrote back to Tom, "Mate if I had a face like yours my hair would be the last thing I'd worry about."
Tom then posted a photo of Zayn's 'Take Me Home' cover, writing, "'Bradford Bad Boi.'"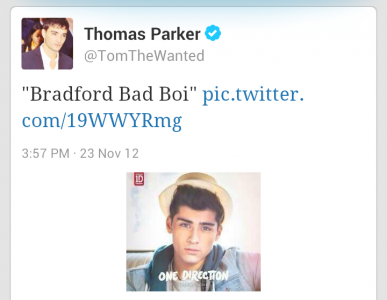 Zayn hit back by implying The Wanted can't sing, replying, "Let's not even start discussing vocal ability boys. Would love to chat, gotta run though, rehearsals."
Then Max replied to Zayn, "Enjoy rehearsals. Stay off the bud … it clearly makes you cranky."  Zayne hit back with, "Alright chlamydia boy."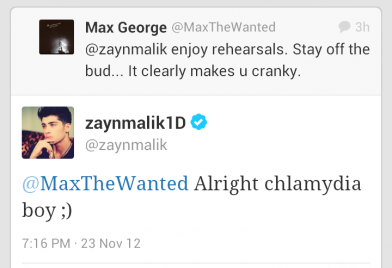 Then Max replied to Zayn with one last final blow of the evening (so far): "Shut it or i'll take your dinner money."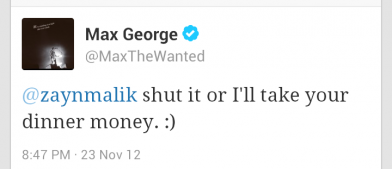 How will this end? Will they kiss and make up or is this indeed a relationship destined for the aisle?
To be continued…
The spat between Max and Zayne escalated further after the 'chlamydia'  name calling. Max came back with, "Tell me your problems without 8 security in NYC. The only problem I have with you is the shit banter. Grow up son.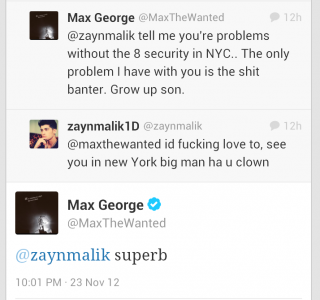 Zayne retaliated quickly with, "I'd f*cking love to. See you in New York big man, ha you clown".
Max simply replied, "Superb".
At times like these we are reminded of the good ole' days. See pic below.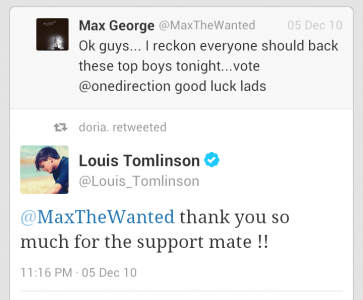 We're always on the lookout for writers/presenters/videographers and photographers. If you think you have what it takes to join the writing team. Get in touch!
http://www.popscoop.org/joinus/

Posted Under