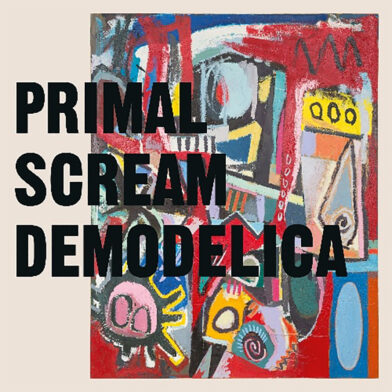 Primal Scream complete a retrospective campaign celebrating the 30th anniversary of their classic 1991 album 'Screamadelica' with today's release of 'Demodelica' album. Featuring early demos and work in progress mixes of the majority of the songs that would feature on the record, 'Demodelica' also features a demo recording of the song 'Screamadelica', which didn't emerge until the following year's 'Dixie-Narco' EP.
In addition, Primal Scream also share a new video, directed by the illustrator and designer Julie Verhoeven, for the recently unearthed 'Shine Like Stars' remix by their much-missed friend and producer Andrew Weatherall. Verhoeven has created an art installation-style visual, which juxtaposes intimate and confrontational close-up shots of Bobby Gillespie with wildly unpredictable stock footage. Both the visual and the remix share the quality of being intensely dreamlike while also expressing an undercurrent of beauty.
Verhoeven says, "The song and the remix share such a magnetic poignancy and allure, which really digs into your subconscious and takes roots. I responded through the guise of Bobby, as a beguiling, living portrait. The vulnerable, yet gritty, provocateur."
'Demodelica' is the third release in the 'Screamadelica' campaign. It follows last month's release of the album first ever 12" Singles Box as well as its first official picture disc format.
Next summer will see Primal Scream take the anniversary celebrations on the road when they play 'Screamadelica' in full at four of the biggest shows of their career: two large capacity big top gigs in Glasgow and then major outdoor gigs in Manchester and London. Completed by a selection of their greatest hits spanning similarly essential albums such as 'XTRMNTR' and 'Give Out But Don't Give Up', the tour represents the first headline shows since December 2019. Tickets for the tour are available from www.gigsandtours.com and www.ticketmaster.co.uk. The dates are:
JULY 2022
1st – Glasgow, Queen's Park
2nd – Glasgow, Queen's Park
9th – Manchester, Castlefield Bowl
16th – London, Alexandra Palace Park
Pop Scoop founder and editor. Ex showbiz/tech editor at the Cyprus Mail. Former sub-editor at Archant. Former art director Sky TV. Co-founder of Kool Magazine and freelanced for the BBC, Channel 4, Warner Bros and the Cyprus Broadcasting Corporation.

Posted Under