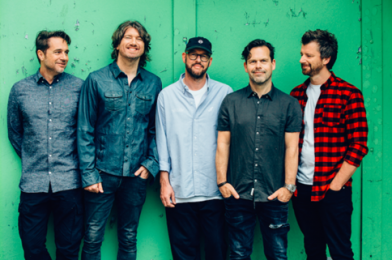 To celebrate the release of their latest album, Embrace will be taking over the dedicated gig space at hmv 363 Oxford Street to perform live and meet fans to sign copies of their latest album Love Is A Basic Need. The live showcase will give fans the chance to hear new tracks from the album performed live and meet the band in person on the day of the album's release.
20 years into their recording career, Embrace are making an epic and emphatic return with their seventh studio album. With three #1 albums, six Top 10 singles, sold out arena shows and over two million album sales behind them, Embrace returned to the music scene three years ago with their Top 5 self-titled albumEmbrace.
Danny McNamara on Love Is A Basic Need- "Most people remember to eat, breathe and drink, but too many of us forget about love until it's too late. The album is about the realisation that without food or water or shelter you die, but the same is also true of love. We set out to make an album where every song on it would stand up against the best songs we've ever written, and I'm pretty confident we've done just that."
Embrace will appear at:
hmv 363 Oxford Street – 2nd March 2018, 6.00pm
Pop Scoop founder and editor. Ex showbiz/tech editor at the Cyprus Mail. Former sub-editor at Archant. Former art director Sky TV. Co-founder of Kool Magazine and freelanced for the BBC, Channel 4, Warner Bros and the Cyprus Broadcasting Corporation.

Posted Under