Online ticket retailer Ticketbis has revealed the formula for the perfect number one by analysing UK number one singles from the past decade.
Researchers scoured over a decade of chart-topping stats to identify the most common traits in a number one.Anyone expecting a total X Factor takeover is in for a surprise; it turns out that Mr. Cowell's chart dominance with Syco has been slightly overstated, with only 10% of number ones coming from the TV talent show contestants.
In the past ten years (572 weeks), there have been 330 number ones, showing a number one spends an average of 1.7 weeks at the top.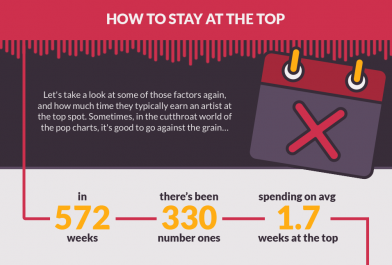 By weighting attributes by the singles' time spent at number one, Ticketbis discovered the factors that give a single a little more staying power.
The length of a song is a key contributing factor to chart dominance. Three minute songs are most likely to earn a number one spot; the 216 hits in this bracket have managed a total 361 weeks at number one, earning them each an average of 1.67 weeks at the top.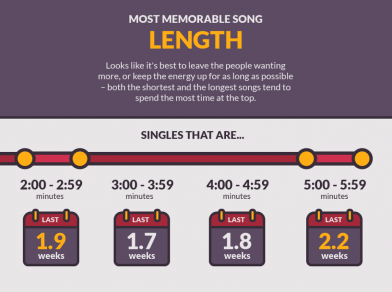 However, the five minute songs managed an average 2.2 weeks at the top, meaning it might not be such a bad idea to draw out that musical interlude in the middle of your musical creation.
Despite the historical chart dominance of the Beatles, it looks like bands are on the way out, with 42% of number one singles in the past ten years coming from solo artists.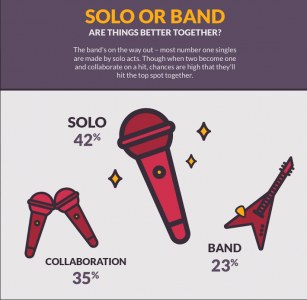 It's clear to see the numbers favour men in the music industry. Of the 330 number ones in the past ten years, 176 – or 53% – were by male artists, all-male bands or collaborations.
With case studies drawing further data from a wide-ranging net that includes the KLF, Russian performance artists and Bryan Adams, the by-the-numbers method of defining a true 21st century number one is displayed by Ticketbis as a visual guide full of facts, figures, graphs and data.
Thomas Mesa, Country Manager UK & Ireland from Ticketbis said: "This in-depth analysis has revealed the ideal formula to achieving a number one single. Any up and coming artists can look at this new information as a great insight into how to succeed in the music industry and achieve that ultimate goal of a number one single in the UK.
"But something which isn't taken into account with this data is star quality, and the odd stray entry to make it to the top and achieve the widely coveted Christmas number one, such as Bob the Builder and Rage Against the Machine"
For a truly unique look at the last decade of the pop charts, explore Ticketbis' By-The-Numbers Guide to a Perfect Number One visit:  http://blog.ticketbis.net/by- the-numbers-guide-to-a- perfect-number-one-part-2/