Prince & 3RDEYEGIRL played two more surprise shows on their 'Hit and Run' tour last night, February 14th 2014, at the Kings Place Arts Centre in London's Kings Cross.
Prince and the girls (guitarist Donna Grantis, bassist Ida Nielsen and drummer Hannah Ford Welton) took to the stage to play a spellbinding 60-minute acoustic set consisting of rarely performed tracks, including classics such as 'Take Me With U' and 'Raspberry Beret' on a bare stage.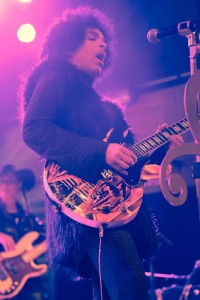 To the shock of those in attendance, the enigmatic icon undertook a very rare Q&A session answering questions from fans submitted prior the show. Then, without warning, the backdrop rose to reveal a fully electric set up! To the surprise of those in attendance, the band proceeded to tear the roof off a 300 capacity venue normally used for hosting classical concerts!
Playing for another hour the bone-shaking electric set contained exclusive unreleased songs from the highly anticipated debut 3RDEYEGIRL album Plectrum Electrum, set for release this year. Throughout the show, Prince played tribute to the music of classic UK artists, playing The Clash's 'Train in Vain' and Roxy Music's 'More Than This'.
In keeping with the rest of the 'Hit and Run' tour the show was announced at the 11th hour via the 3RDEYEGIRL twitter (@3RDEYEGIRL) resulting in a queue of hundreds of fans gathering at the venue. Acknowledging the massive demand, immediately after the show finished Prince announced that he would play another concert for the fans outside that hadn't made it into the first performance.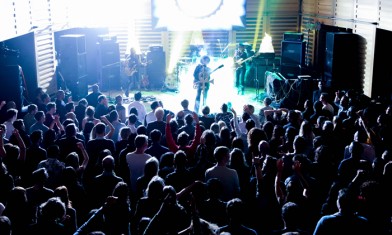 The shows were the latest in Prince and 3RDEYEGIRL's spontaneous 'Hit and Run' tour of London following history making performances at the Electric Ballroom and Shepherds Bush Empire. The Guardian said it best, describing the Electric Ballroom shows in this way: "These are just performances by one of the greatest funk-rock bands ever." The group has been showered in 5-star reviews from all major reviewing media.
At Kings Place, 3RDEYEGIRL announced additional confirmed shows, which include Koko in Camden on Sunday February 16th, the legendary Ronnie Scotts on Monday the 17th, and more dates TBA (including a visit to Manchester).
Prince & 3RDEYEGIRL's smashing new single 'Pretzelbodylogic' is available. Buy now & play loud!