will.i.am is a multi-faceted entertainer and creative innovator. He found global success as one of the founding members of The Black Eyed Peas who have sold 31 million albums and 58 million singles worldwide. He is the recipient of seven Grammy Awards, eight American Music Awards, a Billboard Music Award, a Teen Choice Award, two MTV Video Music Awards and three World Music Awards. He is also the first recording artist to have sent a song to Mars as part of NASA's Curiosity Mars Space Lab project in August 2012. The dope'est judge talks about  The Voice season three.
How does it feel to be back for a third series?
It feels pretty cool. The singers are great.
Were you disappointed last year that Leah didn't win?
Yes but it didn't really matter if you have someone who is championing you. Let's take One Direction. It's a different show but somebody championed them. Somebody fought for them. We adopted Leah and we put her in our system. She is bringing out singles soon and she has been on tour with me.
So have you found some special people this year?
There are some people on my team and some people on other teams that I would like to kidnap! It was tough deciding who stays and who goes. It was kind of hard saying goodbye.
Do the contestants have more of a game plan this year?
No there are a lot of 'green' people.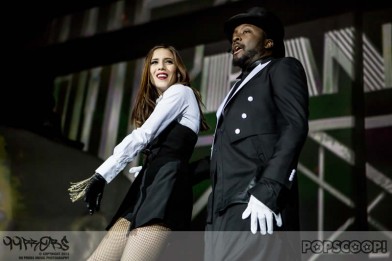 How much do you want to win?
It would be cool but I also want to teach them something. I would rather have someone I can adopt.
What advice have you been giving your contestants on your team?
I tell them 'if you have a job at Tesco and you are singing a constant gig every Friday at a pub, would you be happy?'. And if they so no, I tell them they don't love music. This is because if you have a constant gig every Friday and you are good, it will turn into every day. Every day will turn into 50, 500, 5000 and then 50,000 people. You will grow.
Do you miss Danny and Jessie J?
Yes I miss them but I talk to Danny a lot. We still work together. He and I produced 'Now That I Found You' with David Guetta for Britney. We still write together. I didn't call him for Gaga but, if say, I am working for someone like Britney, I will give him a call.
What are Kylie and Ricky like as coaches?
Kylie is amazing. Ricky is cool.
So you were impressed, then, by them?
Kylie is a great coach, not just for the girls but also for all the dudes who want to be a pop star. It's something we didn't have in the first two seasons. We didn't have someone who has the stripes and badges for 'I know how to get to pop status and keep pop status'. And so Kylie is definitely the queen of that. Ricky is for all the rebels in the audience who want to know how to start from nothing and build something on their own…
And Tom is back again…
Tom is a legend. He is there for what it takes to be a legend. There are a lot of people who have been around for a long time who aren't legends. He is.
Has there been a lot of banter between you all?
No there hasn't been as much because it has been warmer. It has been more caring. The first two seasons, we cared about the contestants, but it was different. This time, Kylie is like a mediator. She is too snuggable. I want to cuddle her. I can't go tit for tat with her. I am more likely to say 'let me just give you the singer then.' I am not going to fight for it, as I just want to snuggle with her!