Sir Tom Jones has sold over 100 million records and is the recipient of a BRIT Award for Best Male and for Outstanding Contribution to Music, a Silver Clef Award for Lifetime Achievement, the Hitmaker Award from the US Songwriters Hall of Fame, and the UK Music Industry Trust Award. His music career started in 1965 with the worldwide hit "It's Not Unusual", and continues to this day. The legendary Voice UK coach talks about his role in season three.
How does it feel to be back for a third series?
It's great. The blind auditions were really good. As for Kylie, I have known her for a long time, as I have Ricky. It's been fun to do it with people I know rather than ones I didn't.
Has there been plenty of banter between you all?
Yes. I know them and so it is easy. Kylie isn't going to be like Jessie and Ricky is not the same as Danny. For Kylie and Ricky, it is a very different environment for them.
Have they asked for your advice?
Ricky has. I told him to relax, go with the flow, go with his instinct and listen. Doing The Voice is not something you can prepare for especially with the blind auditions. You have to go with instinct and press the button when you think you hear something special. But it's a very short performance and decisions have to be quick, so it's tough. The whole thing takes some getting used to.
Do you miss Jessie and Danny?
It's familiarity. We did two series together and all of a sudden, they are not there. But it is not like strangers have come in. Kylie and Ricky are friends of mine anyway.
Are you a stricter or a softer judge this year?
The more you do it, the easier it gets. You are more accustomed to it. For the first series, it is new territory and you are feeling your way through. The second is easier than the first and by the third time you are more familiar with what you are doing. Am I more relaxed this time? Yes definitely, but you still have to learn to say 'no' in a way that doesn't hurt or deflate the contestant.
Does it amaze you that so many people go undiscovered?
Yes it does. You realise there are a lot of singers out there. There are more singers now than ever before.
Is it difficult choosing which talent to pick?
I go on my instinct and what I hear. That's all you have to go on. You don't know whether it is a boy, girl, man or woman. It could be a boy with a high voice that sounds like a girl. You don't know until you turn around what you are going to see.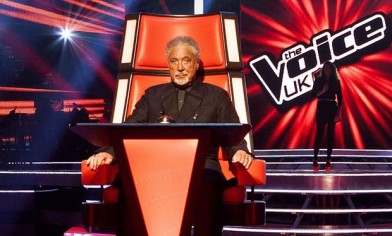 Have you managed to convince all the talent to join your team?
No, and it is frustrating when some good ones slip away. There are some people I would have liked. But it is their decision to make and they will have a great experience with any one of the other coaches, no matter who they go with.
Do you wear your heart on your sleeve with the contestants?
Sometimes it just happens, but I don't do anything for effect—it's instinct. There was a lady in the blind audition and I already had a lot of females at the point where she performed. I was hoping an interesting male would come along, and I wasn't really prepared for her. But she got to me and I had to turn…
Do you have the winning team?
I have no idea. You can't tell, as it is still early days.
Are the contestants savvier this year?
No it is the same in that respect. They still have only a short amount of time to show us their talent. They want someone to turn their chair around. That has not changed.
What advice would you give this year's contestants?
To find yourself as a singer first, rather than say you are 'going to sing like so and so'. Some people are still finding themselves. You have to get the voice you want right so you can present it to the world – otherwise you are going to have problems.
If you could choose someone to be your coach, who would you pick?
I would choose myself!
Why do you still love doing The Voice?
I am helping and hopefully, discovering people. I am giving them a chance. I wish The Voice was around when I started out. But I did it on my own anyway, the way that many still do.
Would you have had the guts to do the show?
Yes I think I would, especially early on. You want to try and get exposure. It's strange, as with these kinds of shows you get exposure before securing a record contract, with some it's even before they've sung in public or done any gigs! Which is the opposite to when I started.
Is it better to have exposure first then?
It's a question I can't answer. The way I did it was the natural way at the time. There was no other option. Now people are thrown in at the deep end early, and they have to be able to cope with public rejection if they don't get too far in the show. Maybe it's not more cut throat but it's definitely more competitive.
Who would you like to do another duet with? Kylie?!
It all depends on the material. You have to develop and know what the song or the concept or the idea is. There is a lot more involved than just thinking 'I would like to sing with so and so'.
And finally, will you ever retire?
No! Every day I do think how lucky I am. It's important. I never take anything for granted. You are only as good as you are. You are not as good as you were or what you might become.