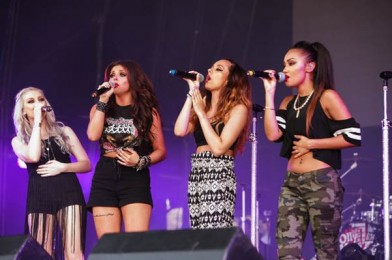 Little Mix have released the video to 'Little Me', the second single to be taken from Little Mix's incredible new album 'Salute'.
With hugely personal lyrics, 'Little Me' is a maturely written and confidently delivered song with a message of strength for the band's fans – as Jesy notes "Little Me is about how there are so many things you used to worry about when you were little, just the stupidest little things, and then as you get older you just think back and go 'I wish I'd have done this or I wish I'd done that."
'Little Me' sees the girls once again writing with hit makers TMS – reuniting the team behind smash hit singles 'Wings' and 'DNA.' Built around a sample taken from 'Pavane' by French composer Gabriel Fauré, Little Mix combine a soaring melody with crashing drumbeats straight out of '90s R&B – the result is a seriously modern mid-tempo pop treat with an inspirational and powerful message.
With 'Salute,' Little Mix cement their place as the world's No.1 girl band. Alongside 'Little Me' and the off-kilter brilliance of first single 'Move', the girls expand their sound to include African-inspired beats on the MNEK-produced 'Nothing Feels Like You', a capella on 'Boy', intimate balladry on 'These Four Walls' and 'Towers' and military call and response on the energetic title track.
Watch 'Little Me' below: