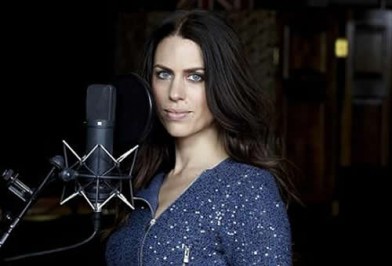 Ayala recently had a laid-back phone conversation with Pop Scoop!, during which she discussed various aspects of her music career. She talked about her beginnings in music, her distinctive style, the evolution of her singing abilities, her songwriting process and collaborations, the significance of social media in her career, and the relationship between studio work and live performances.
Unwelcome winter chills setting in yet? What better way to warm yourself than with the sultry, summer vibes of singer/songwriter Ayala. Her smooth pop/soul/jazz sound with added Latin touches could thaw the iciest of hearts!
Surrounded by music of all kinds from an early age, Ayala was heavily influenced by jazz greats like Ella Fitzgerald, Nina Simone and Sarah Vaughan as well as pop divas like Whitney Houston and Kylie. Although well-versed in playing the piano, violin and harp, she set her mind first and foremost on a career as a singer. She honed her craft by performing standards in jazz clubs across the UK and was even asked to sing at one of Sir Paul McCartney's Christmas parties.
With Ayala's rich and emotive voice compared to the likes of Alicia Keys, Corinne Bailey Rae and Emeli Sandé, her songs have attracted the interest of top producers and DJs offering remixes. Her debut single "The Sun Has Come" was given the deep house treatment by Joey Negro earlier this year, and her brand-new second single "On My Way" (released 2nd December) has been mixed by Dan Frampton, Andi Durrant, as well as club-meister Cahill. The music video for "On My Way" was sponsored by clothing brand River Island and shot by renowned fashion photographer Nick Haddow in sun-drenched Ibiza. All this exposure and the upcoming release of her debut album in Spring 2014 means that Ayala is surely set to seduce an ever-growing number of followers!