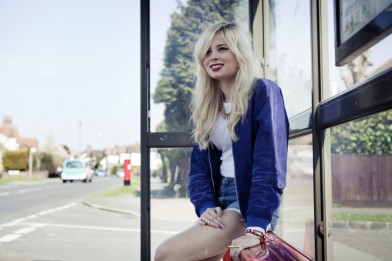 The English Oxford Dictionary has dubbed 'Selfie' the official word of 2013, so who better to release a song about 'Selfies' than Nina Nesbitt. Always ahead of the curve and truly 'the sound of young Britain' (as hailed by the Times earlier this year), rising teen star Nina penned and finished the song well ahead of the winner of the word-of-2013 being announced.
'Selfie' – which, if you don't know, is a type of self-portrait photography, typically taken with a mobile phone and often associated with social networking – isn't just a prevailing trait of the young; everyone does it, even the Obama's and the Pope do it. 'Selfies' is Nina Nesbitt's candid take on the subject as seen through her 19 year old eyes.
This year has been a whirlwind year for the half Scottish, half Swedish singer-songwriter. Back in April, her 4-track EP 'Stay Out' drew combined YouTube and VEVO views of more than six million (taking her total views to date to above 20 million), while its infectious title track was playlisted by Radio 1 and reached No.21 in the charts. VEVO made Nina their latest LIFT artist in July by premiering the video to follow up single 'Way In The World', which was also playlisted by Radio 1 and went straight into the Top 40. In September, she soundtracked a John Lewis advert with her version of Fleetwood Mac's 'Don't Stop' and hit the road for a sold-out UK tour – no mean feat given that her album had not yet been announced. Her Twitter followers now number nearly 130,000 and her Facebook fans over 120,000.
Her rise has been remarkable. Nina was just 16 years old when she began performing intimate shows across Edinburgh and Manchester and, with a budding interest in filmmaking, posted a selection of her own songs and some beautifully conceived cover versions on YouTube. The response she received was overwhelming. It kick started a roller coaster year that culminated with her self-released EP 'The Apple Tree' going straight to #6 on the iTunes download chart and #1 on the singer-songwriter chart last April.
By the end of 2012, Nina had sold out several dates on her first headline tour, signed to major label Island, soft-released her first single Boy (for which Vevo views have surpassed 2.2 million) and been crowned 'Singer/Songwriter New Artist of the Year' by iTunes.
Now, as we approach the end of 2013, it's been another year of accolades – as Nina has sung the national anthem at a Scottish national football game to 50,000 people, has been crowned Most Stylish Musician at the Scottish Style Awards, and has just received Best Emerging Artist at the Scottish Music Awards (following in the footsteps of Emeli Sandé, Amy Macdonald and others).
Nina will kick off 2014 with the release of her debut album 'Peroxide', which she has co-produced with Jake Gosling (Paloma Faith, Ed Sheeran, One Direction) at his studio in Surrey while working very closely with Iain Archer (Jake Bugg) and Mike Crossey (1975 / Ben Howard). The album, which is released on 17th February guest features Kodaline and Lily Allen. As Nina embarks on what looks set to be her most exciting year yet her fanatical following is sure to mushroom by several more million.
Nina Nesbitt will release the single 'Selfies' on 10th February 2014, a week ahead of her highly anticipated debut album 'Peroxide'.
Pre-order NOW!