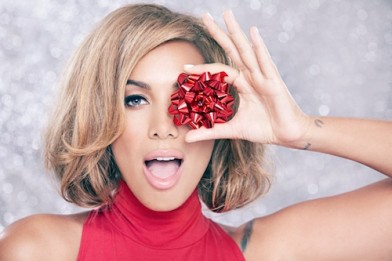 Her new single, One More Sleep, may have narrowly been kept off Number 1 on Sunday, but Leona Lewis has cause for celebration nevertheless after setting a new Official Singles Chart record. Leona now has more Top 5 hits to her name than any other British female solo artist in history!
"The support from my fans has been tremendous," she tells OfficialCharts.com. "I could not do this without them!"
Leona made her Official Singles Chart debut seven years ago with her X Factor winner's single, A Moment Like This. She then topped the chart again the following year with Bleeding Love, the first single from her debut album, Spirit. The track went on to become one of the UK's biggest singles of all-time, selling over a million copies.
2008's Better In Time / Footprints In The Sand peaked at Number 2, while Forgive Me and Run peaked at Number 5 and Number 1, respectively, later that year. Happy, the lead single from Leona's second album, Echo, peaked at Number 2 in 2009, while Collide, her 2011 collaboration with Avicii, peaked at Number 4.
And now with One More Sleep peaking at Number 3, Leona overtakes previous record holder, British-born singer and actress Olivia-Newton John's tally of seven UK Top 5 hits (including 1991's Grease Megamix and the 1998 re-release of her duet with John Travolta, You're The One That I Want). Petula Clark, Shirley Bassey, Cilla Black, Geri Halliwell, Louise, Jessie J and Ellie Goulding sit in joint third place with six solo UK Top 5s, each.
One More Sleep is taken from Leona's new album, Christmas With Love; a selection of seasonal classics and original material. Packed full of fun and festivity with a Motown vibe throughout, this delivers the sound of Christmas 2013 in one perfect package. This is the 4th studio album from global singing sensation Leona Lewis who already has some 20 million album and single sales under her belt.
Christmas, With Love is out now.