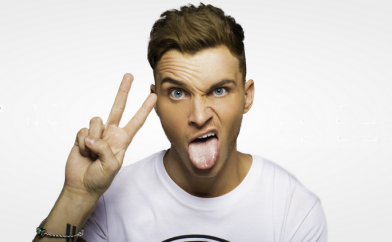 Anttix, one of hottest new pop artist/songwriter to emerge from the UK. He has exploded online with a fan base expanding a phenomenal rate and now the Bristol born cheeky chappy is hoping to raise awareness of cyber-bullying with the 'UK Safer Internet' campaign with a new track 'Be Alright'.
Anttix is very passionate campaigner of anti bullying causes and has since been asked to become an ambassador for 'UK safer Internet'. He is supporting 2013's 'Anti Bullying Week' by releasing a tracked called 'Be Alright'.
About to hit the road on a 3-week national schools tour, Anttix is hoping to raise awareness of cyber-bullying, and the damaging effects of abusive messages posted on social networking sites. Alongside this tour Anttix will be performing at a number of nightclubs, national radio stations and festive events up and down the UK.
Anttix has said: "The reality is, most of us have been affected by bullying at some point. Many will also understand when I say that deep tummy churning feeling in the pit of your stomach caused by bullying. I believe that so many young people fail to see their true potential due to damaged confidence. They fail to see how very special they are! The thought of even one young person going through such dark times brings me a HUGE SAD FACE. "
He added: "We need to encourage the next generation to be decent and kind to each other. Encourage them thats its 'cool' to support and build each other up."
Over the summer Anttix has been busy making an impact on the main stages of some of Europe's most prestigious events & festivals. Performing his high energy pop sets alongside the likes of; Rita Ora, JLS, McFly, Katy B and Connor Maynard.
Anttix debut soft release, titled "Tornado" was released earlier this year and has since gathered more than 1 million views on VEVO as well as receiving rave reviews from countless major blogs and magazines.
With this jam-packed schedule Anttix is still finding the time to head back into the studio to finish recording his highly anticipated debut album, which is set for release early 2014
Pre-order 'Be Alright' on iTunes now: