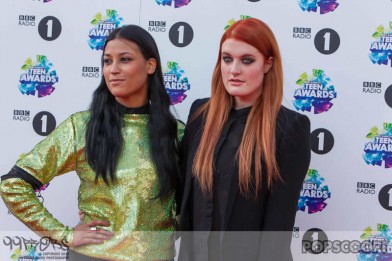 Swedish electro/synth-pop duo Icona Pop hit the international Zeitgeist bull's-eye over the past twelve months with their mega smash-hit "I Love It", which has been a summer dance-floor anthem and the soundtrack to numerous TV shows and advertisements. Talk about a self-fulfilling prophecy!
Caroline Hjelt and Aino Jawo formed Icona Pop in 2009 and began writing classic pop melodies with distinctive house/punk/indie elements, working with producers such as Style of Eye, Patrick Berger and Elof Loelv. Initially only released in Sweden in 2012, their first EP "Iconic" and subsequent self-titled debut album, including singles "Manners", "I Love It" (feat. Charli XCX) and "We Got the World", charted well domestically and proved that their desire to create music "which you can both laugh and cry with at the same time" had a definite audience.
Icona Pop's success went into hyper-drive when they dropped their EP on the US market, where single "I Love It" with its ubercatchy half-sung/half-shouted chorus went double-platinum, peaking at #7 on the Billboard charts. It was the theme song to MTV's "Jersey Shore" spin-off reality series "Snooki & JWoww", featured on episodes of TV series "Girls" and "The Vampire Diaries", was covered by the cast of "Glee" in the show's Season 4 finale, and backed adverts for Diet Coke and the Samsung Galaxy S4. Over a year after its release elsewhere, the song hit the #1 spot of the UK Singles chart during the summer of 2013.
With the long-awaited autumn issue of Icona Pop's debut international full-length album "This Is… Icona Pop", featuring new singles "Girlfriend" and "All Night", as well as global tours in the works, the girls' vibrant EDM sound and day-glo look are bound to continue to influence the pop-sphere for the foreseeable future!
Pop Scoop! caught up with Icona Pop (no relation – haha!) at BBC Radio 1's Teen Awards 2013. They talked about their excitement re performing at the show, the work that went into their debut album, who their musical heroes are, what their teenage years were like, and gave some advice on how to survive this difficult life stage.
Get Icona Pop's debut album "This Is… Icona Pop" on iTunes now: