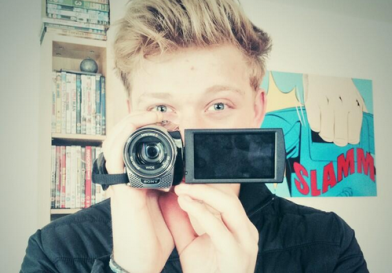 Dan and Greg of District 3 have been experiencing some strange happenings in their apartment. Now they have rigged their apartment with cameras and to see if they can summon any paranormal activity… and you can join them live 9pm Sunday 27th October !
District 3 was formed at school, and over the past 3 years have been on a journey that most notably included reaching The X Factor Finals last year.
They always say you can't fake it. Well you can't – Testament to this is how week in, week out, #district3 was trending number 1, both in the UK and Worldwide on Twitter. Since their first YouTube view, the boys have racked up over an impressive 7 million views. The pre-sale for their first UK tour earlier this year sold out in less than 24 hours.
Then came District 3 EP, that achieved amazing chart results reaching many Top 5 iTunes positions around the world . With co-writing credits on the album, District3 have been working with Dan Havers (Professor Green), Bayku (Emeli Sande, Olly Murs), Pete "Boxsta" Martin (Jessie J) and Brian Kennedy (Rihanna) the band created a record that is authentic and true to them.
Whilst they prepare for the next chapter and whatever that holds for District 3, Dan & Greg have been working on taking their DJ set on the road to their army of 3eeks, who have been with them from the start. Its always been about their music and the fans and these DJ sets will be no exception.
Working hard on their DJ set at home, Greg and Dan have been experiencing some strange happenings in their apartment. Rumours of a poltergeist (wiki source) in their home town has led them to investigate further. For one week, along with 4 of their friends, they have decided to set up camp in their apartment and see if they can summon any paranormal activity. To help them do this they will be calling up on their large social media following to watch, join in and suggest tips and techniques to raise the dead!
What will the 7 days consist of?
Dan and Greg have rigged their apartment with cameras and will be streaming the event 24 hours a day on to their YouTube Channel 'Fright Club TV' www.youtube.com/frightclubtv.
Dan and Greg have stripped the flat of all worldly belongings and have just enough food to last them 12 hours. It's up to the 6 guys to make it to the end of the week unscathed by this unbelievably terrifying task, as they try to crowd source their food, drink, clothes and any entertainment to help them survive. Plus, they must plan a massive halloween party that fans can win tickets to, as well as taking part in various challenges suggested by their social followers throughout the week.
Throughout the week, fans will be able to tune in 24 hours around the clock to see the boys doing ouija boards, telling ghost stories and inviting a medium round to join them to help them contact the dead… there may even be the odd celebrity friend dropping in to join the paranormal activity!
By using the hashtag #FrightClub, fans will be able to ask the boys questions, unless they have physic powers… tell them what they should put in their track and see if they can help them survive the week.
It's not only about the ghosts, it's an insight into the boys lives, giving their fans the chance to see them go about their day-to-day business. What do these boys get up to when they're not performing?
Each day, the boys will take part in challenges that the fans suggest. This could be anything from a chilli-eating contest, to a cook-off, a challenge to see who can make the most ghoulish cocktail…. or even an Xbox challenge where the people at home can challenge them to a game of Fifa.
The Ultimate Fan Reward!
There is no point in doing all of this if the fans don't get rewarded. So Dan and Greg have personally agreed to take as many fans as they can possibly fit in to a movie theatre to watch a marathon of the world's scariest movies if get they get over 250,000 video views on the 'Fright Club' YouTube channel over the week.
So… When is it LIVE?!
The stream will go LIVE from 9pm on Sunday 27th October, directly after the XFactor finishes on ITV.
Social Feeds:
Youtube.com/FrightClubTV
Twitter.com/FrightClubTV
Facebook.com/FrightClubTV
www.frightclub.tv