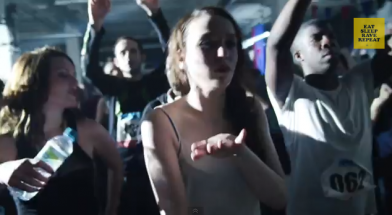 Fatboy Slim has revealed the official music video for for  'Eat, Sleep, Rave, Repeat' days before the single release on October 27.
Slims latest offering is a collaboration with producer and DJ Riva Starr and was remixed by Calvin Harris.
The video features a Dance marathon created by Slim and Starr. The Fatboy DJed the dance marathon to end them all with over 200 participants. "I take off my hat and trousers to everyone who competed. It was brutal, it was emotional and no-one died…" said Norman.
Check out the video 'Fatboy Slim & Riva Starr – Eat, Sleep, Rave, Repeat (Calvin Harris Remix)' here:
 

 
The track is available from iTunes: