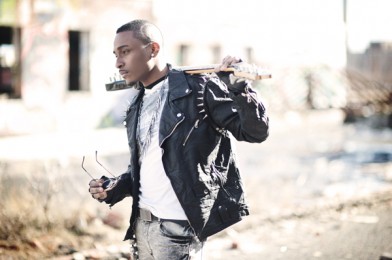 In the grand tradition of 20/21st century Pop Culture Renaissance Men such as P. Diddy, will.i.am, Usher and Ne-Yo, pop/R&B/house recording artist Lukay is a man of many talents. A singer/songwriter, producer, musician and dancer, he is already a sensation in his native Canada, and is now setting his sights on the rest of the world.
With a childhood musical background rooted in his father's local church choir and band, Lukay started out by joining various R&B groups, where he was able to develop his vocal, dance and songwriting abilities. Most notable among these was a 2006 group backed by Johnny Wright, manager guru of acts such as NKOTB, Janet Jackson, Backstreet Boys, Britney Spears and Justin Timberlake. Although the project ultimately did not surface, Lukay channeled his newly honed skills into producing and songwriting. He worked with producers Dark Child and Will Baker, and his 2010 composition 'Yalla Habibi" for pop/R&B artist Karl Wolf was certified Gold in Canada.
Bolstered by this success, Lukay has since also concentrated on his own solo career. He released his ubercatchy debut single 'I'm In Love With Music' in 2011, which reached the Top 10 BDS chart for ten consecutive weeks. Nominated in three categories, he won "Best R&B Artist Anglophone" at the 2012 Montreal Hip-Hop Awards. Following a number of interim YouTube covers including songs by Bruno Mars and One Direction, Lukay dropped his second single 'Dance With You' earlier this year. With more of an athemic house/EDM flavour, this song, coupled with its infectious dance routine, will surely help demonstrate his versatility and launch him into ever higher stratospheres of stardom!
Pop Scoop! recently had a chill chat with Lukay via telephone. He spoke at length about how he started out in music, his ongoing dance work and songwriting, his musical inspirations, who he would love to collaborate with (it's surprising!), where his sound and dance are headed to next, the importance of social media for him, and his feelings about performing live.
Lukay's new single "Dance With You" is available on iTunes now: