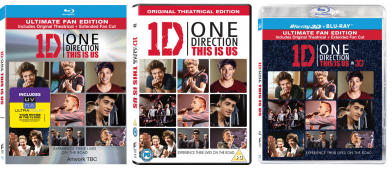 Follow international pop sensation One Direction from their humble hometown beginnings to the global phenomenon in ONE DIRECTION: THIS IS US, arriving in an "Ultimate Fan Edition" coming to Blu-ray™ 3D, Blu-ray™ and DVD with UltraViolet™ December 19th from Sony Pictures Home Entertainment.
Also available in 3D format, the special edition Blu-ray release features both original theatrical and extended fan cuts of the feature film. The extended cut includes 20 minutes of new footage and four additional songs for fans to treasure.
As MTV's 2012 Artist of the Year, Academy Award® nominated director Morgan Spurlock (Best Documentary, Super Size Me, 2004) and producer Simon Cowell (TV's "The X Factor") give fans a captivating and intimate, all-access look at the journey of One Direction, chronicling the group's almost immediate rise to superstardom. Never-before-seen footage from the "Ultimate Fan Edition" includes three exclusive featurettes with behind-the-scenes footage of Niall, Zayn, Liam, Harry and Louis having fun at a radio station in Japan and paying a visit to Madame Tussauds™ wax museum to experience their own sculptures being created.
This edition will also feature "Up All Night" – two mini movies previously only seen at the live concert. ONE DIRECTION: THIS IS US comes with extended scenes and seven featurettes where fans will have the opportunity to go backstage with the group as they prepare for one of their biggest performances of the year and follow them on visits back to their hometowns with the cameras rolling. Also included is the Music Video for fan-favourite "Best Song Ever", the lead single from the group's new album Midnight Memories, released globally on November 25th.
ONE DIRECTION: THIS IS US will also be available on single-disc DVD featuring the original theatrical version of the film along with select featurettes from the "Ultimate Fan Edition."
Blu-ray 3D and Blu-ray Exclusive Bonus Features:
– 20 minutes of new footage
– Four additional songs
– Three featurettes:
"I Didn't Do It" – The boys try to complete on-air promotions at a Japanese radio station
"Hold That Pose" – The boys visit the famed Madame Tussauds™ wax museum
"Up All Night!" – Two mini movies previously only shown during the live concert
Blu-ray and DVD Bonus Features Include:
– "Best Song Ever" Music Video
– Extended Scenes
– Five "Going Home" Featurettes – Each member of the group visits their home town, family and friends, offering fans a glimpse of their life off the road
– Two additional featurettes:
"Before The Show" – Featuring the boys hanging out, playing games, training, and getting ready for one of their performances
"1D Family" – A piece on the fans of One Direction