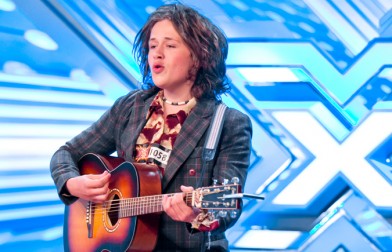 X Factor contestant and TeenStar winner Luke Friend is now in the hands of The X Factor judges Gary Barlow, Nicole Scherzinger, Sharon Osborne, his mentor Louis Walsh and the great British public as he continues his success by competing in The X Factor live shows.
Luke Friend opened the new series of The X Factor and was the first act to be given four yes's by the judges in the first audition. He sailed through the arena auditions with a standing ovation from all four judges as well as the packed out crowd! After such success at the early stages of The X factor it wasn't surprising that Luke Friend bagged one of the six seats to judges' houses and set off to Louis Walsh's house in St Tropez. His performance blew Shane Filan of Westlife, former All Saint Nicole Appleton and Sinitta away and Louis had no choice but to send him through as one of his top three acts to the live shows!
Week 1 of The X Factor's live shows kicked off last weekend with an 80's theme. Luke Friend performed a brilliant rendition of "Every Breath You Take" by The Police, which all four judges gave great comments about. Sharon Osbourne said he was 'bang on' and had all the performance skills to go right through to the end of the contest. Gary Barlow said Luke's voice was an acquired taste but 'loved it' and Nicole Scherzinger said that the teenager had a 'lovely tone', continuing with "every time you perform I feel it. All your performances have sincerity and rawness."
X Factor contestant and TeenStar winner Luke Friend commented afterwards saying "I'm having the time of my life!" No wonder Luke is having such a great time, he's currently staying in the £5 million London mansion with the rest of the X Factor contestants!
With plenty of experience of performing on huge stages after competing in the national singing competition TeenStar, performing live in front of millions of people is no pressure for Luke Friend and after a tense first set of results Luke Friend made it through to the second week! This week's theme is Love and Heartbreak – where Luke will be performing recent chart favourite 'Let Her Go' by Passenger.
Hopefully Luke's popularity will continue to rise as he continues to perform in the live shows, but let's hope his website withstands the traffic in future.
Watch X Factor contestant and TeenStar winner Luke Friend's winning performance at the TeenStar Grand Final here:
For more news, videos and pictures of Luke Friend check out his website: www.lukefriend.co.uk