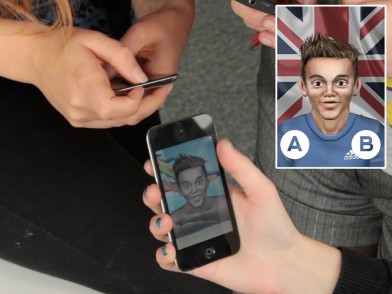 Olympic diving star Tom Daley began started Headcasting yesterday, sending instant animated 'visual Tweets' direct to his followers through the recently launched Headcast system. Tom will be updating fans on his busy schedule, including training and the world of entertainment, all through an animated version of himself, delivered to mobile devices via the Virtually Tom Daley app.
"I'm really looking forward to keeping everyone up to date with what I'm doing via a virtual me," said Tom. "Virtually Tom Daley is another fun way to interact with my fans."
The Headcast platform allows celebrities and brands to create personalised, animated and interactive characters that are instantly brought to life through voice and pushed directly to smartphones. Designed to be consumed on the go, each Headcast is limited to 60 seconds to tap into consumers' appetite for bite size updates and can be produced, sent and received over 3G.
Stephen Fry became the first high profile personality to trial the service in May this year. Now Tom is to start Headcasting from today, using the latest release of the HeadcastLab system. He simply speaks into his phone or tablet in 'self-animator' mode to record the audio, his character auto-lipsyncs and the in-built technology then animates the character, as easy as sending a Tweet. Extra animations, such as trademark gestures, shrugs and topical images within the background, add extra life to the Headcast and can be included at the touch of a button. Followers receive the Headcast within a minute and can interact through the use of polls to gauge fan opinion, by tapping the character, or adding sequences into the Headcasts.
Added Tom: "My virtual Tom looks just like me but a hilarious caricature version! It's easy to use and pretty much instant, so I'll be Headcasting regularly from today."
Chris Chapman, CEO of HeadcastLab, said: "We're delighted that Tom has started Headcasting. He's incredibly social media savvy and wants to engage directly with his fans and followers. We are allowing him to bring this to life through Virtually Tom Daley and the interactive him."
We're always on the lookout for writers/presenters/videographers and photographers. If you think you have what it takes to join the writing team. Get in touch!
http://www.popscoop.org/joinus/
Twitter
Join us on Facebook