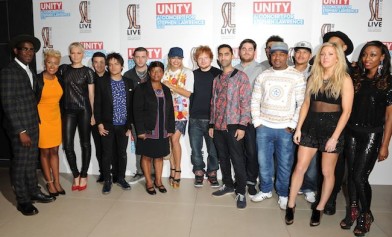 'Unity – A Concert for Stephen Lawrence' blew the roof off The O2 on Sunday night as some of the biggest names in British music gave soul shaking performances sending a message of equality and social empowerment to thousands of young music lovers across the UK.
Plan B provided the explosive opener with a three song tour de force setting the atmosphere in the dome at full throttle. Highlights of the night came in the form of a series of surprise performances from Dizzee Rascal, a passionate version of 'Amazing Grace' by Jessie J, Tinie Tempah and Rita Ora collaborating for 'RIP' and Labrinth covering Coldplay classic, 'Yellow'.
Film director and artistic director of London 2012's Opening Ceremony Danny Boyle welcomed Doreen Lawrence to the stage, whose words were both touching and powerful in an evening of celebration and hope.
For people who weren't able to share the incredible experience in person, BBC1 will broadcast a 60-minute show with highlights from the concert at 10.35pm on Tuesday 1st October, with the concert also being repeated on BBC Three on Saturday 5 October and additional performances available via the Red Button.
There will also be a live album released on Tuesday 1st October, which will include all the special performances from the night, with all proceeds going directly to the Stephen Lawrence Charitable Foundation.
The concert aimed to unite communities and bring people of all backgrounds together through the common language of music, marking the 20th anniversary of Stephen Lawrence's murder. Through the work of Stephen's mother, Baroness Doreen Lawrence OBE and The Stephen Lawrence Charitable Trust, Britain is changing but there is still much more to be done. The SL20 campaign, set-up by the Trust to mark this important anniversary, aims to highlight Stephen's legacy and the vital work undertaken by the charity in his name. This concert will play a pivotal role in the SL20 initiative.
Unity – A Concert for Stephen Lawrence is supported by Mayor of London Boris Johnson as well as Lewisham and Greenwich Council.
TO DONATE MONEY PLEASE VISIT:
http://www.justgiving.com/slct/Donate
or text SLCT20 followed by either £1, £2, £3, £4, £5 or £10 to 70070 e.g. 'SLCT20 £10' to 70070