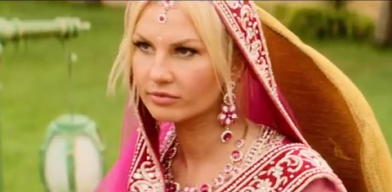 British viewers will soon get to love and learn about the fantastic and crazy world of Kamaliya now Meet The Russians has come to our screens on FOX TV and now you can enjoy her catchy latest single Lover me Like.
A bonafide star in her native Ukraine, Kamaliya has recorded over 80 songs, topped the pop, club and video charts in countries including Germany, Poland, Mexico and Russia. In the UK, she has had a string of club hits with the singles Butterflies and I'm Alive reaching No.1 and No.2 respectively.
Signed to All Around The World (the hugely successful UK dance label who have had success with NDubz, Jessie J, and Charlie Brown as well as the massive Clubland and Floorfillers compilations), Kamaliya's sound mixes dance beats with operatic flourishes, showcasing both her pop and operatic vocals.
New single Love Me Like, released November 11th, features the classical French opera Les pecheurs de perles composed by Bizet (which incidentally celebrates its 150th anniversary this year). The upbeat floor filler also has an accompanying Bollywood themed music video filmed in Mumbai this summer. With no less than 100 dancers, a palace and an elephant, the video is in keeping with Kamaliya's unique fantastical and creative style.
Key remixes come courtesy of Sidney Samson and Killfake, Cahill, Mike Delinquent, Eric Kupper, Q Block, and Michael Gray.
WATCH: Kamaliya's video for new single 'Love Me Like' below: