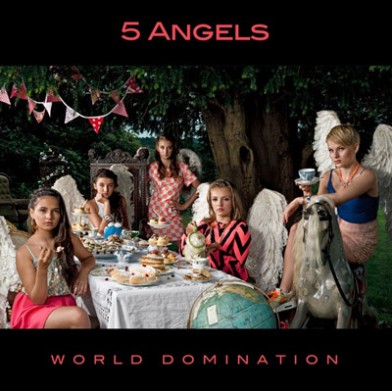 Teen pop group 5Angels have landed and are taking over the UK and Ireland, with their super-catchy, upbeat UK debut single 'World Domination'. The euro dance, fun pop track is now available for eagerly awaiting fans to download on iTunes and Amazon. Their fans are continuing to grow in the UK following several appearances this summer; CBBC Blue Peter, AllStarz Summer Party and Sundown Festival.
Next on their bid for 'World Domination' is a huge UK and Ireland wide tour with this year's hottest boy band Union J, which will be on the road from December 14 to January 14. Speaking about the tour, Nikki said 'We are so excited about going on tour with Union J, they are so gorgeous, we met them at Sundown Festival and they were lovely. We hope that all of their fans will love our songs and join in with our dancing, we want to get them hyped and ready for Union J's amazing performance'. They will also be performing at the BIG GIG Girl Guide concert at Wembley Arena on October 12th.
Who are they? 5 Angels are aged between 13 and 16 years old, they are Nikki, Tereza, Vendy, Angee and Veronika. Although very young they are hugely talented and between them are trained dancers and gymnasts, they perform their songs with easy-to-learn, infectious dance moves. They represent a healthy, happy, hard-working and above all clean-cut and fun-loving audience, ideal for young fans and tweens to look up to.
Music lovers who have embraced happy pop acts like S Club Juniors, Steps and euro dance-girl Alexandra Stan will love the 5Angels. They are signed with Denis Ingoldsby (Amber Entertainment) who has previously worked with t.AT.u, Girls Aloud and Eternal, he says; 'There's a real gap in the market for a girl group aged 13-15 who are all about fun and have great energy. They can be role models for young girls. They've got good voices and they are really great dancers.'
The group was formed in 2007 and have achieved massive fame in their home country of Czech Republic and their fans affectionately referred to as 'cherubs' are continuing to grow in the UK. In the Czech Republic alone they have sold over half a million records, have had a host of concerts and TV appearances, a hit teen musical show, and even their own karaoke DVDs. In addition to living the pop star lifestyle, they are still studying at school in the Czech Republic.
Their UK agent is Paul Fitzgerald of CAA, who also represents One Direction and Union J said, 'I think that 5Angels are a refreshing take on the girl band, very clean cut and with great pop songs that can be enjoyed by kids and parents alike without the worry of risqué lyrics. The band are global citizens and will not be restricted by their nationality. Pop fans will find 5Angels via social media and will love them'
iTunes download link – Click here
Check out our interview with 5Angels – Click here