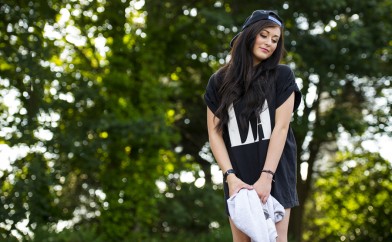 To what extent are social media such as Facebook, Twitter and YouTube now influencing and shaping the music business and the UK Top 40? Look no further than rising female singer-songwriter Ebony Day – a mini revolution all unto herself!
Three years ago at the young age of 17, Ebony was forced to stay home from school for several months with severe food allergies. Out of desperation she taught herself simple guitar chords and started to compose songs. Inspired by the blossoming career of Justin Bieber, she also covered other artists (everyone from Rihanna and Taylor Swift, to Jessie J and One Direction), and regularly uploaded videos of herself performing onto YouTube. The ensuing buzz has so far racked up a total of 20 million views, nearly 180k subscribers, over 50k Twitter followers, and a die-hard fan base called "Daylights".
It's thanks to the grass-roots dedicated engagement of these "Daylights", that Ebony was ultimately crowned MTV's Brand New Artist 2013, triumphing over more established acts like Gabrielle Aplin, HAIM and Tom Odell with 40% of the votes. Crucially, she is the first unsigned artist ever to win this coveted prize and with past winners such as Justin Bieber and Conor Maynard, her future is surely very bright indeed!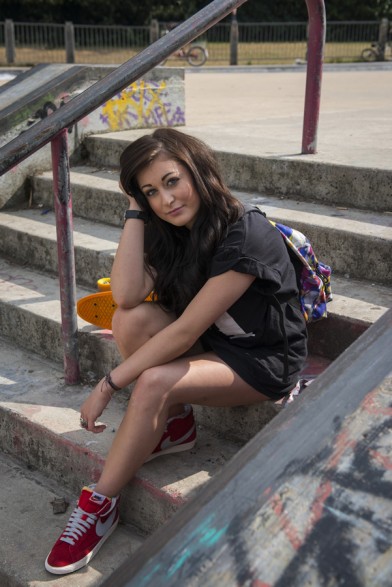 Ebony's acoustic-driven indie-pop sound, sweetly pure voice, and original song-writing is showcased on her debut 4-track EP 'The Beginning' due 29th September and celebrated with a special live launch from (appropriately) YouTube Studios in London.
Pop Scoop! managed to catch Ebony recently for a relaxed chat via telephone. Ebony spoke about how she first started in music, how she develops covers, the inspiration for her song lyrics, and the importance for her of connecting with fans via social media and in person.
Ebony Day's debut EP 'The Beginning' is out now. Get it HERE