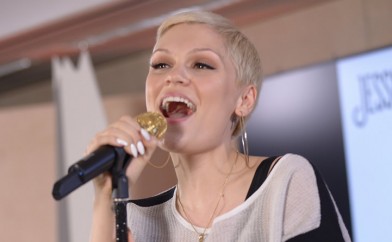 Jessie J took part in the first UK-based Facebook Live event today, where she gave her fans an exclusive insight into the stories behind the songs from her new album, Alive, released this week.
At the unique event, Jessie J also answered questions from a select group of fans who won the chance to watch the event in person through an exclusive competition on Jessie J's Facebook page.
When talking about the title track from her album, Alive, at the Facebook Live event by interviewer, Radio 1Xtra DJ Twin B, the singer said: "I wrote that song with four chords on a piano and that was it. I wanted to write a song that represents how I feel right now. I feel like I now know what I need to be as an aunt. As a sister. As a mother one day. I know what I want to leave behind. I know what kind of friend I want to be. I'm not saying I am that person right now, but I'm saying that in the sense that I know how I want to get there and that's what the song is about."
Jessie J went on to exclusively reveal details of her upcoming arena tour, which starts on October 12th in Belfast, she said: "I wanted the tour to be inspirational and thought provoking. There are five sections; each section has it's own word and vibe and the whole performance tells a story, like a film."
Jessie J announced that she would be the first person to host a Facebook Live event in the UK by posting a personal video message to her 13.7 million Facebook fans. Since announcing the Facebook Live last week, Jessie J's Facebook fan base has grown to over 14 million.
She said: "It's crazy to think that I'm following in the footsteps of Madonna and Rihanna by taking part in a Facebook Live event. And to think that I am the first person ever to do it in the UK is amazing! Events like this allow me to connect with fans from all over the world that I wouldn't otherwise get the chance to. It has been great fun and I've really enjoyed giving fans a sneak peak of songs from my new album and answering questions from fans."
Jessie J also sang an acoustic version of It's My Party, Wild and Conquer the World from her new album, Alive, at the event. 
Glenn Miller who leads Entertainment Partnerships for Facebook across Europe, said: "Facebook Live is part of a larger initiative to help public figures and influential publishers on Facebook produce great content for their audiences. Facebook Live with Jessie J is a great demonstration of what musicians can do to connect with their fans on Facebook.
There are lots of other ways public figures can use Facebook to connect with fans, whether through announcing news and sharing exclusive content such as hashtags, embedded posts, APIs and Q&As. We are also focused on creating programmes and best practices to help top publishers take advantage of Facebook's distribution and scale. Many public figures are using the platform to announce news and share exclusive content like Jay Z's Holy Grail video."
If you missed the chance to see the event live, watch it again to re-live the unique experience below.
 Jessie J – Interview (Live at Facebook London)