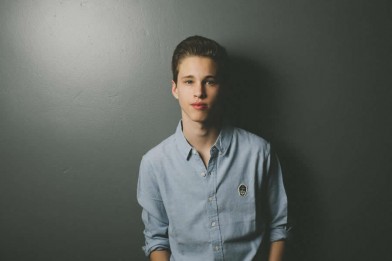 Teen sensation Ryan Beatty has been making huge waves in the US. Luckily for us, Ryan has ventured across the pond to spend some studio time in London and meet his British fans.
The Apple Store in Regent St was full of screaming girls last night, as soon as anyone walked through the door he was supposed to arrive by, girls jumped out of their seats and the deafening frenzy began.
The 18-year-old (as of today, 25th of September) singer from Clovis, California, USA has gained worldwide fame through his YouTube channel with a staggering 350 000 subscribers and 450 000 twitter followers.
His first EP "Because of You" reached number one on the iTunes Pop Album US charts, and number seven on the Top Album US Charts.
His performance at the Apple Store in London was a chance to hear him live, and have a few questions answered.
What kind of music were you listening to when you were growing up?
I grew up listening to a lot of older music, my dad was listening to orchestra, but I also grew up with artists like Stevie Wonder or James Taylor.
You've been really busy with recording the new album since arriving in London, have you had the chance to see much of our capital city?
Yeah I arrived on the 10th of September to work on an album that should be out in 2014, but I managed to be a tourist on Saturday, I did all the major tourist attractions like Buckingham Palace, I feel really embarrassed that I played typical tourist! I love London, there's a cool electric feeling about this city.
You've toured with Cody Simpson, how was that?
It was my first tour, I'm really happy we managed to do that tour and everything worked out because it was a great experience, and Cody is a cool guy, really talented.
Now you're going to do some shows of your own?
Yeah I have a headlining tour coming in the USA only (fans booed) but as I see a lot of you here today maybe we'll try to come back here!
At the moment there's a kind of war between Lady Gaga and Katy Perry fans, which side are you on?
I really love both, they are super creative, but I got to say that I really love Katy Perry's new single ROAR, so I'll go for Katy Perry.
Miley Cyrus and her twerk is also on every mouth… can you twerk?
Oh no… (Ryan starts laughing and the fans beging chanting "twerk, twerk, twerk" but he refuses to twerk, and who can blame him… honestly?)
If you were a superhero what kind of powers would you have?
I'd love to fly, I think about that a lot when I'm on a plane, just being above everything.
You've done quite a few covers on your YouTube channel, which one is your favourite?
I think "The way I am" by Ingrid Michaelson would be my favourite as I recorded that one with my sister Jenny, and it did pretty well! (Fans asked him to sing the song, so he sang a bit, and it led straight into the live session).