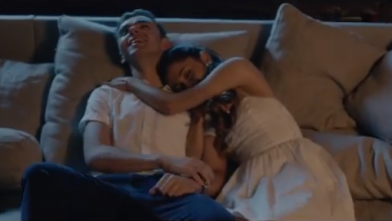 The Wanted singer Nathan Sykes and Ariana Grande have finally revealed they are in a relationship. A revelation that has left pretty much nobody shocked.
Rumours have been doing the rounds ever since the hot couple performed their duet 'Almost Is Never Enough' .
This week saw the couple pictured holding hands at Disneyland and Nathan broke his silence on Twitter earlier today (24th September).
"So, I guess it's obvious now … thanks to everyone who is being so lovely. I'm so happy ❤️ #butweareterrified #pleasedontkillme #orariana," he wrote.
Ariana retweeted the post and also posted herself: "we hesitated saying anything as people can be a bit insensitive but thank u ♡ we value all of your happiness, thank you for valuing ours :)"
Max George showed how happy he was for his bandmate on Twitter where he wrote:"@NathanThe Wanted @ArianaGrande very happy for you little brother. She's a sweetheart ;)"
Nathan then replied to his good friend's comment, and tweeted: "@MaxTheWanted thanks mate, she really is."