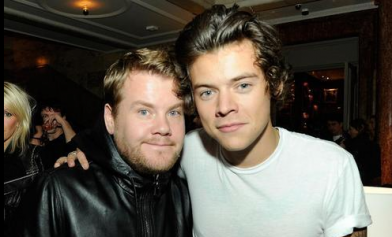 Funny man James Corden has revealed how he met One Direction's Harry Styles and Louis Tomlinson before they rose to fame and how their relationship blossomed over pizza and video games.
Speaking to The Observer Magazine, James said: "So, Louis Tomlinson who is a member of One Direction, his mum was a chaperone on [TV drama] 'Fat Friends'.
"So Louis used to come to the set with his mum and since I was the only sort of young person around we would kick a football around, things like that.
"Then when he got into 'The X Factor', he got in touch and said, 'I'm in London and I don't know anybody'. So he brought Harry round and we played Fifa and had a pizza, so that's how."
Speaking of Harry, James feels the 1D hunk need 'normal' people around him to keep him grounded. He added: "He's an adorable guy and I can't begin to imagine what his life is like right now and how it's changed in the past three years.
"And, I feel like the more normal people he has around, probably the better."
Harry  recently admitted he can't wait to see James Corden play Britain's Got Talent winner Paul Potts in new movie, One Chance.
The One Direction star tweeted a link to a story about the film, with the message: "Can't wait to watch this @JKCorden."