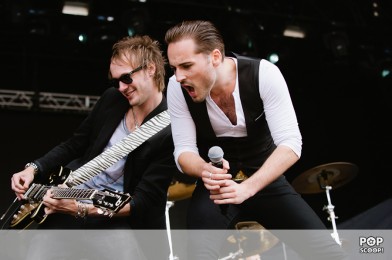 Every now and then one is lucky enough to witness an emerging band that is clearly much, much bigger than the status quo they currently find themselves in. London/Brighton-based band Joywride are the epitome of such a phenomenon. Their sound, look and performance are already huge. The world just needs to catch up – and quickly!
Founded in 2011, Joywride are Ollie Wride (lead vocals/keyboards), Josh Dally (guitar), James Crossy (drums) and Charis Anderson (bass). Self-styled "Dance Rock Revivalists" and "Saviours of Glam Pop", Joywride are that rare breed of act which is brimming with nostalgia for a bygone musical era, and yet pointedly does not want to merely be an ironic retro tribute, but rather an honest evolutionary step forward. Their sound is glam rock/pop meets Hi-NRG disco, drenched in synth-guitar-vocal hooks that make each song instantly anthemic.
Joywride proudly wear their influences (both past and contemporary) on their expertly-tailored sleeves. One can hear elements of Queen, David Bowie and Prefab Sprout through The Killers, Phoenix, Daft Punk and M83, all the way to the uber-happy pop of Scissor Sisters, Roxette and Alphabeat. Ollie's crystal-pure and effortless vocal range, coupled with his performance penchant for jaunty swagger and constant vogueing, remind one of Freddie Mercury, Jake Shears, Brandon Flowers, and Bono.
Despite this background tapestry of inspiration, Joywride have notably recorded very few covers, concentrating primarily on their own material – and it shows. From the melancholic slow ballad 'Silhouettes' to the stadium-anthems '21st Century Love' and 'Headrush' their songs are tightly written, crafted and produced, sounding like the mature work of a very seasoned band. We look forward to seeing where Joywride take us on their joyous and heartfelt onward journey!
Pop Scoop! sat down with Joywride for a chat before their set onstage at Sundown Festival, which was the last stop of their first summer festival tour. They spoke about their musical style, their diverse influences, the ways in which they write songs, and the importance of social media for them.
Joywride also gave us a rousing live acoustic version of their song 'Headrush'. En-joy!
Check out the cool backstage pics of Joywride from Sundown Festival 2013 by photographer Neil Burton below: