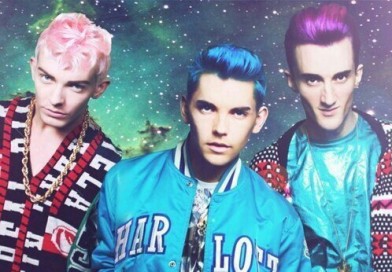 Remember Eurodance-pop group Aqua and their 1997 #1 UK hit 'Barbie Girl'? "I'm a Barbie girl, in the Barbie world / Life in plastic, it's fantastic!" Well, that final lyric line has literally come to fantabulous, rainbow-coloured life in three-piece self-styled "New Boy Band" Plastic. And they are indeed fantastic!

Plastic are young 20-something boys Sam Morris (purple hair), Tom Davies (blue hair) and LuLu Smith (pink hair), who met as professional dancers in London. Sam and LuLu have previously appeared in Olly Murs' videos, while Tom has toured globally with the Royal Ballet in productions such as 'The Nutcracker' and 'Swan Lake'. Together they decided that the pop world of the 2010s was in ultra-major need of a full makeover.
In Plastic's opinion, much of the carefree fun (and let's admit, conscious cheese-o-rama) found in 1990s acts such as the Spice Girls, Steps, S Club 7 and Aqua has vanished, especially in the case of boy bands. (Although arguably with boy bands, it was never really there in the first place.) At the risk of gruesome death-by-fangirl, let me pose this question: When was the last time you saw The Wanted or One Direction having actual unadulterated fun? And I don't mean staged, awkward "fun", but rather let-it-all-hang-out, "what, me worry?", loopy craziness. I thought so. . .
Enter the fashionista boys of Plastic, who have visually styled themselves in the grand "complete look" traditions of the underground club scene and the Japanese Harajuku Super-Kawaii (read: cute) – all mad hair colours, extreme patterned clothes, oversize jewelry and finger peace-signs. Their sound is pure Eurodance/electro-pop with a sprinkling of hip-hop rapping, house/techno synths and dubstep stutter & wobble.
Plastic have so far recorded numerous pop covers ('N Sync, Ke$ha, Emeli Sandé), mashups and original songs ('Mannequin', 'DAFUQ', 'Alive', ' Versace') and in many cases uploaded accompanying music videos onto YouTube. They have supported acts like Alphabeat and Stooshe and performed for fashion icon Donatella Versace personally at this year's Vogue Festival, where she declared that meeting the boys was "one of the proudest moments of her life".
Backed by dedicated fans called "The Fantastics" and over 17k Twitter followers, Plastic have now commenced the next stage of their quest for stardom by auditioning for X Factor 2013. They impressed the judges, particularly Nicole Scherzinger and even Gary Barlow (in marked contrast to his reaction to similarly camp Rylan Clark last year), and progressed to a rousing reception at Wembley Arena for their self-penned song '90s'. Further details are of course still hush-hush, but we think there's definitely more in store for them on the X Factor – or rather #TheFantasticFactor!
Now, Plastic have released that very song as their debut single. '90s' is an ultra-catchy electro-pop tribute to and celebration of everything that was fun and cool about the decade the boys grew up in, such as Gameboys, Super Mario, Tamagotchi, Power Rangers, Super Soakers, Pokémon, Furbies and Push Pops. The track is peppered with lyrical references to the Spice Girls ("hi ci ya, hold tight", "friendship never ends") and very clever wordplay to boot – who knew there were so many rhymes for "plastic"? "Plastic, fantastic / Gonna style my hair so drastic / Crazy colour glee sarcastic / [. . .] / Elastic, love bombastic / Gonna hold the throne like we're dynastic / bitches be enthusiastic."
The Plastic boys and their single '90s' are a definite vibrantly visual and aural breath of fresh air. To paraphrase their own words: There's a lot of beige in pop – we need more colour!
Get you copy of  '90s' on iTunes here!
 Watch the video for '90s' below: