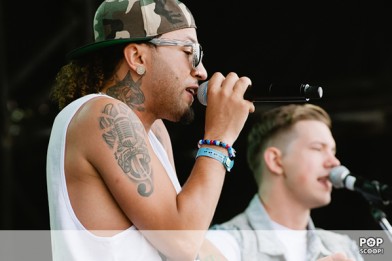 "Unique" is a term all too often bandied about in the music business to describe an act that puts a twist on an old formula or has a little something new to offer. East Anglia-based band De' Vide however, are a duo that truly embody "uniqueness". You will have never heard anything quite as fresh as them!
De' Vide are rapper/MC Lex Flowers and acoustic/vocals Barny Holmes and their sound is best defined as a funk-inflected fusion of hip-hop, R&B, soul and indie. In their own words they are "like pick 'n' mix – we've got a little bit of everything". Unlike with pick 'n' mix though, you won't need to select your favourite piece of the De' Vide sound, because the whole blends together remarkably seamlessly and pleasurably. Barny's strong, expressive tenor and effortless falsetto lead, often accompanied by his crisp percussive acoustic guitar playing, while Lex's laid-back flow and silky-smooth, sometimes whispered delivery weaves and winds throughout.
Lex and Barny had both been performing solo for many years, when their paths crossed in 2010 and they decided to join forces. As De' Vide they began to gig steadily, building up a repertoire of eclectic covers (from The Temptations via Chaka Khan to Jay Z) and original material (standout tracks being 'Keep Running', 'Waiting' and 'To & Fro'). Their big break came when they reached the blind auditions of The Voice UK 2013 and were chosen by Jessie J for her team. Although they were subsequently eliminated during the battle rounds, the fan following and overwhelmingly positive feedback boost they received spurred them onwards. #DeVideAndConquer is the word!
Since then, they have released their free debut EP 'Standing Ovation' via SoundCloud, supported The Brand New Heavies, are due as special guests on So Solid Crew's final UK tour, and are hard at work in the studio on their forthcoming first album.
Pop Scoop! managed to stop De' Vide for a chill chat after their set onstage at Sundown Festival. They spoke about their musical style, their varied influences, and the importance of social media for them.
Check out the cool backstage pics of De' Vide from Sundown Festival 2013 by photographer Neil Burton below: