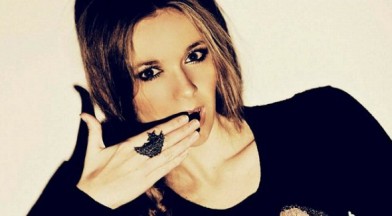 Every once in a while, far away from the sob stories of televised talent shows, a gifted young person will be found in the most unusual of places. Beth Sherburn is the perfect example of being in the right place at the right time.
It was whilst working at Debenham's last Christmas that Beth was plucked from obscurity, after singing along to Michael Buble! Now, with a top ten dance hit under her belt and new single 'Overload' set to hit the charts, Beth is ready to take the music scene by storm. PopScoop managed to pull Beth away from her busy schedule to quiz her on everything from her new album to what was the first album she ever bought!!
So how did you first get into music?
From an early age music has always been my passion! I joined my school choir which built my confidence immensely, leading me to take Singing and piano lessons! I entered lots of competitions nationwide and joined a Gospel choir. With them I got the opportunity to sing at a number of world class venues, including The Royal Albert Hall, Birmingham NIA, MEN arena to name but a few. I got involved in many workshops inspiring me to develop my songwriting skills.
My lucky break came last Christmas when I was spotted working in Debenhams by a record producer whilst singing to Michael Buble….since then I have had a top ten hit in the dance charts with my Duran Duran cover Ordinary World which has been played on Capital FM, In Demand Dance, BBC and other worldwide stations!
What are your dreams and aspirations for your career?
I hope I will have a successful music career, both as a performer and songwriter. I would love to work with high profile artists/producers and have the opportunity for my own music to be heard worldwide!
There are a lot of female artists that dominate that the music scene who has inspired you throughout your life?
I love Kylie Minogue, she is always stylish and fashion forward, she is the ultimate Diva! And whilst growing up I loved listening to Britney Spears…I've been lucky enough to see them in concert ( Showgirl tour and Circus tour) and I thought their shows were amazing, I was in awe of the costumes, the dancers, the whole show….
Your new single 'Overload' is out soon. What can you tell us about the track?
Overload definitely has a summer vibe to it! It's a fun upbeat track! Overload was mixed by Alias who has worked with Lady GaGa, Cheryl Cole, Little Mix, The Saturdays…It's a fantastic feeling to think that Alias wanted to work on Overload…I'm so happy with the mix!
Does the song have a message that you feel people can relate to?
Overload is all about going out with your friends and having a great night out! I always visioned Overload to be played at beach parties abroad, this is why we shot the video in Alicante, the weather was amazing! I was so lucky to be working with an amazing team who have worked with Will.I.Am, Kelly Rowland and Pitbull….
How does it feel to go out and perform this song as a music artist?
It's a fantastic feeling to perform the songs I have written, I have worked really hard in the studio recording my own material and now to finally perform my songs on stage is exciting! The fans always have an amazing energy when i perform and because of this, it's definitely one of the biggest highlights of being an artist!
You have worked with Jud Mahoney & John McLaughlin, who have previously worked with artists such as Michael Jackson and Calvin Harris, what does this mean to you?
I am incredibly lucky to be working with these producers! I really do have a great team behind me! I have gained a lot of experience working/writing with these talented people. They have produced and remixed top tunes for amazing artists who have influenced me through the years!
What can your fans expect from your upcoming album?
My sound has a pop/dance feel with edgy lyrics and attitude…everyone has been really supportive and are anticipating my future release!
Will there be any opportunities for your fans to see you perform live anytime soon?
Yes! There will definitely be more Live performances ready for the Christmas period! I have previously been touring schools in the UK and recently i've performed for Prince Andrew which was a huge honour for me! I've performed for Glasgow Gay Pride which was amazing…And recently been performing in clubs and on live radio…I'm also very busy working on my next single and finishing off my debut album…
What advice can you give to people who maybe, like you were, working in retail and singing along to the radio?
NEVER GIVE UP! Always give 110%. You never know who's watching or listening to give you that big break you deserve! You may get knock backs but always stay positive. You should go to many live gigs as you can..this definitely influences me as an artist! I also got involved in many competitions and workshops, inspiring me and helping me to develop my songwriting skills! I believe that if you put in the hard work from the beginning you will get rewarded one day!!!
Quickfire Questions
X-Factor or The Voice?
X Factor
Simon Cowell or Tom Jones?
Simon Cowell
Rihanna or Beyonce?
Beyonce
First album you bought?
Britney- Baby one more time
First Concert you attended?
Spice Girls
First poster you put on your bedroom wall?
Leonardo DiCaprio
One Direction or The Wanted?
One Direction
Beth Sherburn's glittering new single 'Overload' is available on iTunes now HERE!