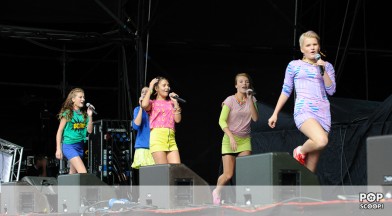 Are YOU ready for the Day of Reckoning. . .?! No, don't ye sinners worry, we are not announcing the imminent approach of the Four Horsemen of the Apocalypse, but rather the welcome arrival on our shores of 5Angels, a five-piece girl group from the Czech Republic!
Aged between 13 and 15 years old, 5Angels are Nikki, Tereza, Vendy, Angee and Veronika. With backgrounds in competitive dance and/or gymnastics, the girls represent a healthy, happy, hard-working and above all clean-cut and fun-loving ideal for young kids and tweens to aspire to. The group was formed in 2007 and following a few changes in membership, have achieved massive One Direction-like fame in their home country – legions of fans calling themselves "cherubs", over half a million records sold, a host of concerts and TV appearances, a hit teen musical show, and even their own karaoke DVDs.
Now, with support by manager/producer Denis Ingoldsby (who has previously worked with Girls Aloud, Eternal and t.A.T.u.), 5Angels are set to take over the UK with their super-catchy, upbeat debut single and music video 'World Domination'. The sound is Eurodance-pop par excellence and crucially there are accompanying easy-to-learn, infectious dance moves too. As the country which readily embraced happy-pop acts like Steps, S Club 7 and S Club Juniors, the UK is surely an ideal launching pad for the girls!
5Angels will make their first UK TV appearance on CBBC Blue Peter in early September and follow that with the single release, a performance at the BIG GIG Girlguide Festival at Wembley Arena, and a special guest slot on Union J's 'Magazines + TV Screens' tour this winter.
Pop Scoop! was able to catch up with 5Angels after their set onstage at Sundown Festival, in one of the few moments the girls weren't racing about backstage to meet other pop stars themselves or collecting their well-deserved promo goodies. They spoke (as well as they could in English – they are still learning!) about their upcoming plans and their excitement at soon touring with Union J. They also gave us an exclusive demo of the signature dance steps from 'World Domination': "Jump around, hit the floor and pump it up!"
Check out the interview below:
Check out the cool backstage pics of 5Angels from Sundown Festival 2013 by photographer Neil Burton below: