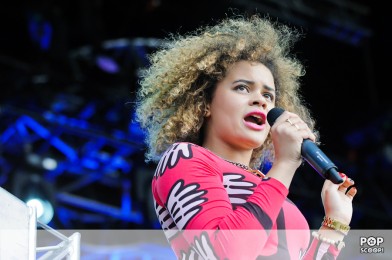 17 year-old Nicole Shortland, better known as her alter ego Little Nikki, is a red-hot candidate for imminent female R&B solo-artist stardom.
Formerly a member of girl group trio SoundGirl (who released single 'Don't Know Why' in 2011, and toured with Justin Bieber, Pixie Lott, and The Wanted), Little Nikki has now embarked on a solo career and been very busy indeed over the past year. She has so far released two singles, 'Intro Intro' and 'Where I'm Coming From', and is about to drop third track 'Little Nikki Says' from her upcoming album due in 2014.
Little Nikki's sound is a super-fresh mix of R&B and hip-hop inflected by UK garage/grime and EDM touches. Comparisons with the likes of Rihanna, Azealia Banks and Katy B are wholly warranted, but with her innocent demeanour, fun & friendly lyrics, as well as her uniquely pouty voice, Little Nikki has definitely got a singular spice of her own. Watch this space!
Pop Scoop! was lucky enough to nab Little Nikki for a few brief moments straight after her set onstage at Sundown Festival. She spoke about where she gets her songwriting inspiration from, who she's currently working in the studio with, and what's coming up for her.
Watch our interview with Little Nikki Below:
Check out the cool pics from our photographer Neil Burton here: