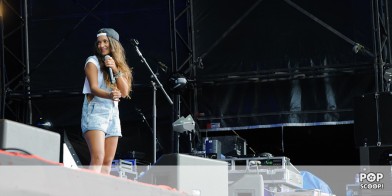 The burgeoning career of singer-songwriter Ria Ritchie is a testament to the possibilities and power of social media in today's music biz.
Surrounded by the soul and Motown records played by her parents, born-and-bred Suffolk girl Ria picked up a guitar at the age of 17 and after teaching herself some basic chords, began to cover other artists' songs, eventually uploading videos of herself performing onto YouTube. The ensuing buzz racked up a total of 11 million views, 35k subscribers, the interest of rapper Plan B, and a meeting with Jay Z's business partner Jay Brown. She has since co-written songs with Plan B as well as collaborated with producers such as Craze & Hoax, Future Cut, and Ruth-Anne Cunningham.
Ria's musical style is a vibrant union of R&B, neo soul and hip-hop. She released her debut single 'Only One' in 2012 and followed that in June 2013 with a five-track EP entitled 'Wrong Side of Paradise'.
Pop Scoop! managed to catch Ria for a chill sit-down chat right before her set at Sundown Festival in Norfolk, where she had also previously performed in 2012. Ria spoke about how she started out in music, the ways in which she writes songs, and the brand new soul sound she was about to debut onstage with her backing band – which will very likely form the musical basis for her upcoming album due in 2014.
 Watch our interview with Ria Ritchie below:
We also had photographer Neil Burton on hand to capture the event both onstage and backstage. Check out the cool pics here: