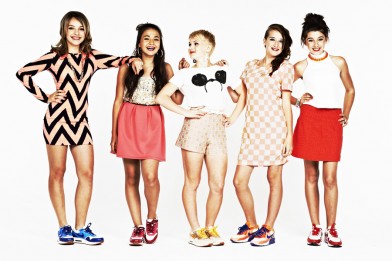 5 Angels mania is about to sweep the UK as the teen phenomenon, originally from Czech Republic, land in the UK to wow a new audience of young fans with their catchy tunes and infectious dance moves.
Already a huge success in their home country, the five girls will join pop royalty Jessie J and JLS at the Sundown Music Festival in Norfolk on 1 September for an eagerly anticipated performance of their upcoming new single 'World Domination'. The girls have also been confirmed as special guests at the Union J 18 show 'Magazines and TV Screens' UK tour this winter; December 2013 and January 2014.
5 Angels, consist of Angee, Nikki, Veronika, Vendy and Tereza are aged 13-15; they are all about having fun, singing songs and entertaining a young audience. Their catchy, upbeat, dance-along debut UK single 'World Domination', will be released on 27 September and will have everyone copying the easy to learn dance moves – think 'Gangnam Style' meets Glee! 'Jump around, hit the floor and pump it up…'
What makes them unique and so refreshing to the UK pop scene, is that there is no other group like them; their appeal is fresh, upbeat, musical and appealing. 5 Angels are fun, bubbly and colourful with tons of personality – no doubt parents will approve!
Before their arrival in the UK, the girls have had thousands of fans from the Czech and Slovak Republic going wild wherever they go, comparable to the army of the UK's One Direction fans.
5 Angels have sold over half a million records, have performed numerous concerts, released their own karaoke DVDs and starred in the hit teen musical show 'Angels in Ostravia'.
Now they are ready to take on the UK!