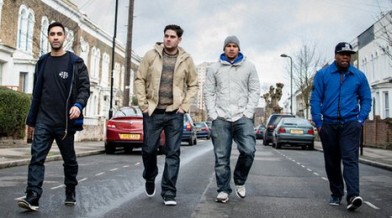 Virgin Media has announced that Our House, the ultimate house party at V Festival, is set to be home to some of the hottest dance acts in the world, including a headline DJ set by Rudimental at Weston Park, Staffordshire (Saturday 17th August) and Hylands Park, Essex (Sunday 18th August).
Rudimental will be joined by DJ Fresh who, exclusively for Virgin Media, will collaborate with surprise special guests to bring a never-seen-before performance to Our House. This act, along with other exclusive footage from Our House, will be exclusively available on Virgin Media's YouTube channel at www.youtube.com/thesnapvm from Monday 19th August.
The Our House decks will also be set spinning by award winning DJs, Toddla T Sound, Jaguar Skills, Krafty Kuts and A Skillz across the festival weekend and both festival sites.
Virgin Media's Our House is a festival experience like no other, where guests can enjoy intimate performances from world-class talent. Our House headliners Rudimental said, "We're delighted to be playing at Virgin Media's "Our House" this year. It's been an amazing summer and it just keeps getting better now that we're headlining at one of the biggest festivals of the summer. Our album is called 'Home', so "Our House" is going to be our Home for the night and we're going to blow the roof off!"
DJ Fresh commented, "'I'm looking forward to playing at Virgin Media's Our House this year, and I'm ready for a big Our House party! I'm going to be bringing an exclusive performance and collaboration to the stage this year. Festival season is my favourite time of year and I love playing these more intimate sets!"
Our House is free to all V Festival-goers and will be at both sites – Weston Park, Staffordshire and Hylands Park, Essex (open 11am – 11pm Saturday 17th and Sunday 18th August). The space is decked out with the latest digital entertainment and revellers can take a break from partying to stay in touch with friends and family.  Fully connected with Virgin Media's superfast fibre optic broadband, guests can use the bank of laptops for tweeting, poking and following, all weekend.
On-site Virgin Media customers will be treated to their own exclusive chill-out area – Our Garden – situated next to Our House. Those lucky enough to be in Our Garden can expect lots of special treats over the weekend, including chances to win amazing experiences such as access to the side of the stage to watch V Festival acts.
Virgin Media is also offering free superfast WiFi for all festival-goers at V Festival, as well as phone charging stations – across both sites for the whole weekend. Plus Virgin Media Angels will also be across the sites to provide a helping hand – from directions to the stages to helping with luggage.
Richard Larcombe, director of advertising and sponsorship at Virgin Media, said: "We couldn't be more excited to welcome Rudimental to the Our House decks and help us get the party started! Plus, with DJ Fresh's world-premiere surprise collaboration, whether you're at the festival or watching on YouTube, you won't miss out!
"We are extremely proud to put our name to the V Festival for the sixth year running. Whether lining up some amazing acts for Our House or surprising our customers with cupcakes in Our Garden, we are continuing to create extra special moments for all V Festival-goers."