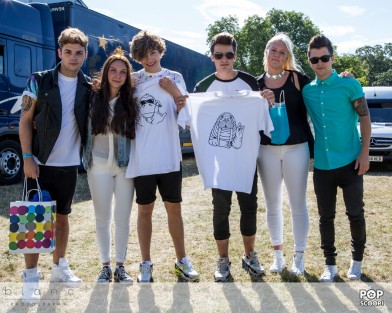 Two  JCats got the chance to say hello and Happy Birthday to one of the hottest new boybands around at Sound Island Festival 2013 on Sunday 28, July on Josh Cuthbert's birthday and a day after George Shelley birthday.
The girls,  Michaela Selling and Sofia Holmlund, both aged 18 years, won the Pop Scoop! Meet and Greet Competition last month and flew all the way from Sweden to claim their prize. They arrived bearing gifts for the band, brining  Josh and George two t-shirts, one with a walrus and another with a monkey, both doing the rock-on pose. They also brought some Swedish candy for all the boys.
Watch the emotional Meet & Greet below:
Speaking of the experience, Michaela said: "It feels like a dream come true! We've been waiting for this moment since the X Factor times and we still can't believe it happened."
Sofia added: "When we first saw them it felt unreal because to us they have only exist on the screen. We love them so much and it was an amazing and emotional moment."
Doesn't get better than that really does it?
Full gallery of Meet & Greet below:
[nggallery id=18]