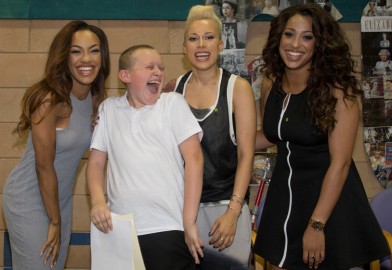 Chart-topping R&B group Stooshe showed what a class act they are, when they met with clearly-thrilled Ryan Reid (12) at a surprise visit to Barnardo's Meadows' school annual Prize Giving day.
The hit trio visited the Kent residential school for children with emotional and behavioural difficulties, to award prizes to pupils who have excelled in – and out – of the classroom at the annual Prize Giving Ceremony.
As they handed out forty prizes to the pupils, the band praised the school's state-of-the-art Arts department which has enabled students to perform with the London Chamber Orchestra.
Singer Karis Anderson, who reached number 3 with the band in the UK charts with hit single 'Black Heart', comments: "It's inspiring to see the arts and performance playing such a big role at Meadows School, giving the young people here a chance to express them selves and to do and be what they want.
"We're proud to be giving prizes to people who've overcome difficulties to achieve so much."
The Principal of Meadows School, Mike Price, said: "Our end of term Prize Giving Ceremony is always a great way to end the school year and to show our appreciation to pupils for all their hard work over the past twelve months.
"We're delighted that Stooshe could come along and inspire the young people here to achieve even more."