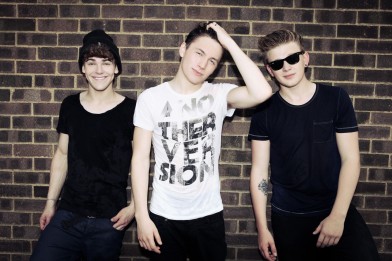 Micky, Greg and Dan, aka District3, have been on an incredible journey since reaching The X Factor Finals last year which has seen a sell out tour. Now, their army of 3eeks, who have been with them from the start, now have their first glimpse into what we can look forward to with District 3.
Testament to the bands appeal, #district3 can be seen trending both in the UK and Worldwide on Twitter week in, week out. Since their first YouTube view, the boys have racked up over an impressive 7 million views. The pre-sale for their first UK tour earlier this year sold out in less than 24 hours.
August 18th will be a red letter for fans, as the group releases their taster EP. With co-writing credits on the album, District3 have been working with Dan Havers (Professor Green), Bayku (Emeli Sande, Olly Murs), Pete "Boxsta" Martin (Jessie J) and Brian Kennedy (Rihanna) to create a record that is authentic and true to them.
They also collaborated with rapper Bigz on their track Chasing Silhouettes. On tour the band previewed tracks to the fans, and the reactions just need to be YouTubed.
Since the beginning, District3 have always been about their music and the fans. It is not about compromise so the boys are currently releasing their own music, under the guidance and stewardship of the management team best known for launching the careers of The Wanted and The Saturdays.
District3 EP – District3  is currently available to pre-order on iTunes
Track listing:
1. Let's Reload
2. What You Know About Me?
3. Hello
4. Dead To Me
5. Chasing Silhouettes
6. More and More (Acoustic Video)
Check out our EXCLUSIVE: Interview and photoshoot with District3 HERE