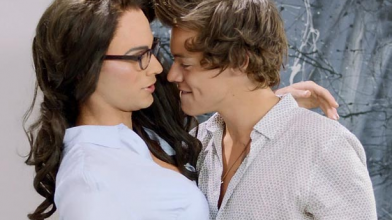 One Direction have been teasing us for a whole week now with snippets from their latest video and the characters involved played by Niall Horan, Harry Styles, Liam Payne, Louis Tomlinson and Zayn Malik but finally the full video is here.
Was it worth the wait? damn right it was. James Corden and Ben Winston, have a knack of getting their celebrity buddies to do the unexpected to create comedy gold, the duo behind the 'Smithy' Comic Relief sketches.
The boys play the charachters we've been introduced to over the last week, the studio executives, choreographer, sexy secretary and the Marketing guy Marcel who are assigned to work on their new video.
The real boys are not to pleased with the results and cause havoc in the offices of the execs while singing and dancing to the tune of 'Best Song Ever'
Watch the video to Best Song Ever below: