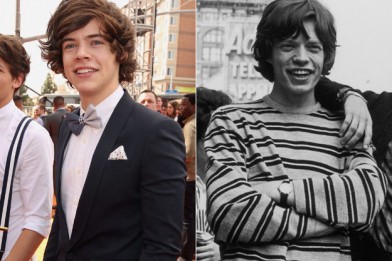 Harry Styles plans to take up ballet to keep fit in a bid to emulate Sir Mick Jagger and have a long career in show business like his idol.
The One Direction hunk wants to emulate The Rolling Stones frontman's dancing skills, and has been chatting to Torje Eike — Mick Jaggers long-standing trainer and physio about copying the music legends fitness regime.
A source told The Sun: "Harry wants a career spanning decades like Mick's and to have that he recognises that fitness, health and developing his body is the key.
"He spoke to Torje about Jagger's intense routine of kick-boxing, running, weights and, most importantly, ballet.
"That's the Achilles' heel in Harry's training. He can't dance and neither can any of the 1D boys – their choreographer recognised early on that they shouldn't dance on stage."
Ramzy Khachik said: "Nobody works harder than ballet dancers.
"It's all about grace, stance and strength.
"Harry sees how supple Mick is, how he manages to stretch his body and do contortions.
"It's a brilliant art form and will get more grace into his movements — if you're graceful you can get away with minimalistic moves, which is what their choreography is about."