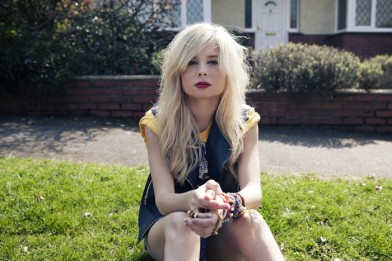 Following the success of her 'Stay Out' EP, Nina Nesbitt will release her new EP 'Way in the World' on 22nd July through Island Records.
It's been a fantastic start to the year for Nina Nesbitt, the half Scottish, half Swedish singer-songwriter, who is still only 18. Released in April, her 4-track EP 'Stay Out' drew combined VEVO and YouTube views of more than four million (taking her total views to date to close to ten million), while its infectious title track was playlisted by Radio 1 and reached No.21 in the charts. Her Twitter followers now number over 85,000 and her Facebook fans over 75,000.
Her rise has been remarkable. Nina was just 16 years old when she began performing intimate shows across Edinburgh and Manchester and, with a budding interest in filmmaking, posted a selection of her own songs and some beautifully conceived cover versions on YouTube. The response she received was overwhelming. It kick started a roller coaster year that culminated with her self-released EP 'The Apple Tree' going straight to #6 on the iTunes download chart and #1 on the singer-songwriter chart last April.
By the end of 2012, Nina had sold out several dates on her first headline tour, signed to major label Island, soft-released her first single Boy (for which VEVO views have surpassed 1.5 million) and been crowned 'Singer/Songwriter New Artist of the Year' by iTunes.
The 'Way in the World' video will premiere on Vevo, who have just announced Nina as their newest LIFT artist, on Wednesday 12th June. VEVO LIFT is a key part of VEVO's original programming, amplifying the careers of up-and-coming artists and turning them into stars. LIFT artists in the UK have included Rita Ora, Bastille, Labrinth, Conor Maynard and Iggy Azalea.
'Way in the World' is the perfect follow up to 'Stay Out' with its whip-smart lyrics and catchy chorus. Both were co-produced with Jake Gosling (Paloma Faith, Ed Sheeran, One Direction) and Iain Archer (Jake Bugg). Nina is currently putting the finishing touches to her debut album with Jake at his studio in Surrey.
A packed summer of intimate dates and festival appearances awaits, followed by an 11-date headline tour in October, by which time Nina's fanatical following will have mushroomed by several more million.
Pre-order on iTunes now: Way In the World E.P. – Nina Nesbitt