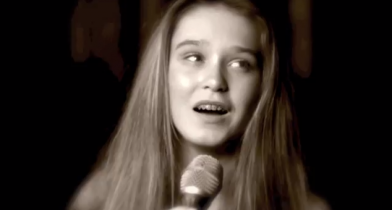 British schoolgirl Anassa O'Neill is "Feeling Good" after her cover of the Nina Simone classic became a YouTube sensation championed by everyone from football pundits and popstars to French TV presenters.
Her family first heard Anassa O'Neill sing last Christmas when she was 12 and were blown away by the power and maturity of her voice.
They later challenged her to sing the Jazz Blues song and video'ed the performance before posting it on YouTube to show friends and relatives.
Anassa's version of the song and her renditions of three other top tunes have since gathered over a million hits in just three months.
News of the remarkable young talent, who had never had a singing lesson in her life, spread quickly via social media. It was fired by tweets from well-known personalities, including former footballer turned pundit Robbie Savage and legendary goalkeeper Peter Schmeichel, who raved about her.
Boyband Lawson also urged their fans to log on and listen to Anassa's soulful and distinctive voice. To her amazement they did. The 13-year-old, who also writes her own songs, has since posted her interpretation of Swedish House Mafia's "Don't You Worry Child", "We Can't Stop" by Miley Cyrus.
A radio station recently recounted her story and played her songs and the YouTube video of her singing "Feeling Good" has just appeared on national TV in France.
Anassa is concentrating on her schoolwork and is enjoying writing her own songs while using social media sites as a forum for feedback.
Watch Anassa singing Nina Simone's Feeling Good –  aged 12