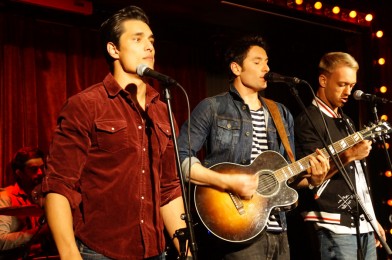 Times Red are set to play the British Summer Time Festival in London's Hyde Park ahead of their debut single 'Not Listening' release in August.
Times Red are regulars on the live music scene, performing energetic live shows with their full band. As well as headlining at this year's British Grand Prix, the band have also been selected to perform at the Barclaycard British Summer Time Festival in London's Hyde Park on Sunday 14th July, amongst other acts including Jennifer Lopez and Lionel Richie, a major coup for the band whose star is steadily rising.
Following the soft launch of their introductory EP, 'Just No Good For Me', in March of this year, 'Not Listening' is the band's eagerly anticipated debut single release – set to be the soundtrack of the summer. The feel-good track, although reminiscent of Bruno Mars, delivers the unmistakable Times Red sound and perfectly showcases the talents of each of the three members.
Scott Ritchie (lead vocal, songwriter and guitar), Staz Nair (supporting vocal, songwriter and keys) and Luke White (supporting vocal, writer and beat-boxer) have developed a great musical chemistry by combining live instruments with tight harmonies.
This song proves there's much more to these three than their undeniably handsome faces; their vocals, personalities and classic pop song-writing style shine through in 'Not Listening', which is set to be a sure-fire hit. The tongue-in-cheek lyrics are set against a summery roots reggae riff which will have listeners hooked from the outset.
'Not Listening' is released on 4th August 2013
Watch our interview with Times Red below.