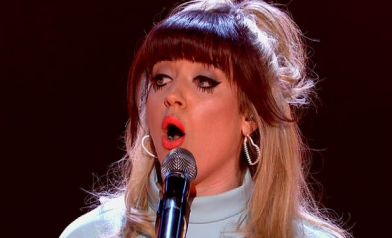 Will.i.am is to take The Voice runner up Leah McFall to New York next week to kick start her career by working on original material together – this was all conceived  today, in what felt like a A&R boardroom meeting held live on Twitter.
The Voice coach was pretty vocal thought this season of the Voice that the public should vote for someone with superstar credentials, something that didn't happen (in his eyes) in last night final.
He started is day by tweeting Leah this morning: "We need to get to work…there is winning #theVOICEuk & then there is making hits…that's how we will win…#youAREamazing,"
"I gotta do now what I know how to do…full speed ahead…@leahmcfallmusic let's go!!! Original music time…I'm fired up now," he added.
"'Its time to focus and build…let's go @leahmcfallmusic…I'm so pumped….me and leah will start next week…#newORIGINALsongs."
But then he appeared to have a brainwave and decided to fly Leah to the Big Apple next week to really get things moving.'
"As a matter of fact…let's start in nyc next week…somebody wake up the wizards…let's make magic @leahmcfallmusic." He added.
Having a slight dig at last year's winner Leanne Mitchell who didn't release her first album for almost a year and not wanting to make the same mistakes, he added: "We can't take our time…we gotta go in now…everyone else is ganna take their time like last year…#letsGET2work."
"I take this way to serious…even when the shows finished…I care…& your amazing…#dedicated till i see you make it…" he continued.
Leah was over the moon, and who wouldn't be, she added: "Ahhhh New York!! I'm packing right now… Ahhhh can't wait!New beginnings…Thank U so much for the best coaching I could have ever dreamed off!So excited2work next week ah."
Leah also took time to praise winner Andrea, tweeting: 'Best time ever at @BBCTheVoiceUK over the past few months. Congrats to my girl @ABegleymusic !!! Insane enchanting vocal!! So proud!'