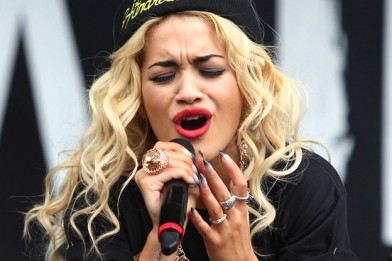 Rita Ora is following in the footsteps of boyband One Direction and has applied for one of the most extensive trademark patents ever including hair removal cream, hair pieces, nail varnish to pets' clothing and video games.
This is the second application the singer's legal team have filed, the first being back in November for a range of products including cotton wool, watercolour paint, umbrellas and talcum powder.
An insider told The Sun on Sunday: "She has applied for a trademark on everything under the sun.
"The stuff she could put her name on would be enough to fill an entire Rita Ora shop."
The 'How We Do' hitmaker is said to be ready to follow in in the footsteps of superstar boy band One Direction after their success on the likes of "toothbrushes and perfume" – and has even applied to trademark "nose hair trimmers".
The source added: "Merchandising has become huge business these days.
"We've already seen the likes of One Direction cashing in on things like toothbrushes and perfume.
"But a trademark like hers is staggering. You'd have to be a mega fan to want some Rita nose hair trimmers."