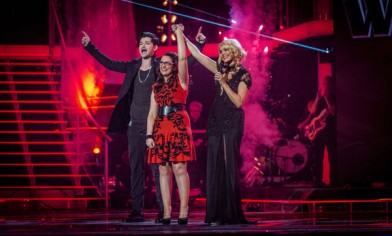 Belfast's Andrea Begley was crowned winner of The Voice UK on Saturday night, beating Leah McFall, Mike Ward and Matt Henry to win a recording deal with Universal Music.
When presenter Holly Willoughby announced the result Andrea, coached by Danny O'Donoghue, was visibly shocked and overwhelmed.
"I never ever, ever could have imagined this. Honestly first and foremost I have to thank everybody at home for voting for me and hopefully I will try my best to put your vote to good use and be a success – and thank you so much," said Andrea.
Speaking to her Coach, Danny, "I was joking earlier in the week that someone asked me what kind of Coach he was and I jokingly said 'I made a really big mistake, I should have picked Tom!' – turns out I made the right choice!"
Coach Danny said "I'm so proud of you, it just proves that a great singer with a great song can knock down walls, you can smash down anything you put in front of you. You're an inspiration to me, I've learnt more probably from you than you have from me. And I just say congratulations well done, incredible."
During Saturday's final, Andrea sang twice solo, and once alongside Danny and the rest of The Script performing their number one single Hall of Fame. Her solo performances were of Evanescence My Immortal, and Angel by Sarah McClauchlan.